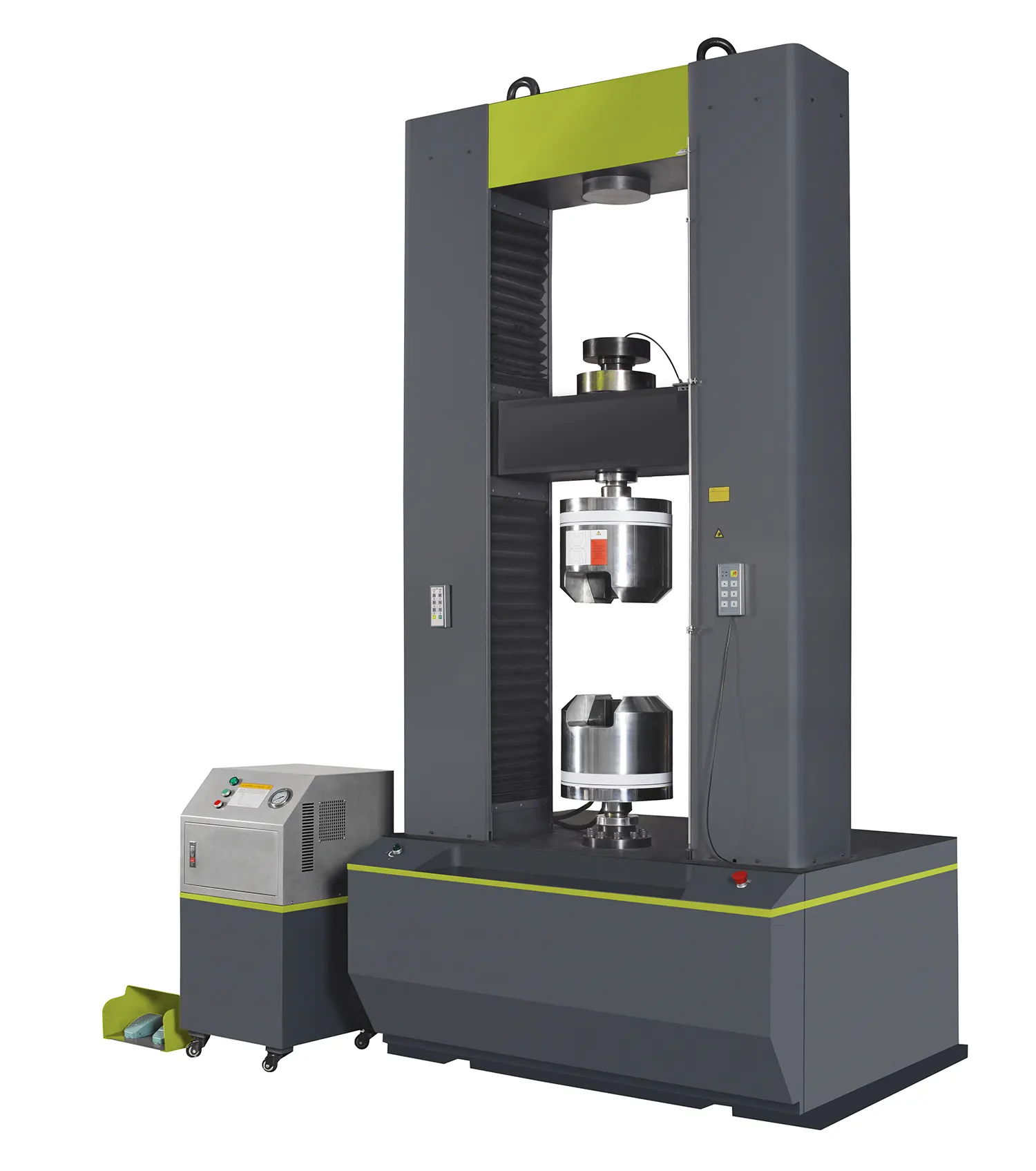 Though the name TensileMill CNC Inc. is globally recognized as the producers of tensile specimen preparation machines, you will be pleased to learn that we are also capable of providing you with Tensile Testing Equipment meeting all the latest international industry standards. We achieve this by collaborating with industry giants who produce Tensile Testing equipment in United States and around the globe.
One Stop-Shop for Universal Testing Needs
North American Quality
Full Scope of Grips, Fixtures and Consumables
User-Friendly
Turnkey Solution
Force Capacity Ranges from 1kN to 3000kN
Our established and highly reputable partners are hand picked based on their reflection of our philosophies. These philosophies include the ultimate customer experience; user-friendly, efficient and cost-effective solutions; and superior aftersales technical support to keep your projects moving forward glitch free. Together we offer years of field experience coupled with hands-on knowledge of industry's best practices for sample preparation methods and materials testing. All this serves as the foundation for matching end-users with quality tensile testing equipment.
Simply submit your technical specifications using the submission form below to be matched with the optimal manufacturer of Universal Testing Machines for your specific application, budget and other considerations.
How Do I Select the Perfect Tensile Tester?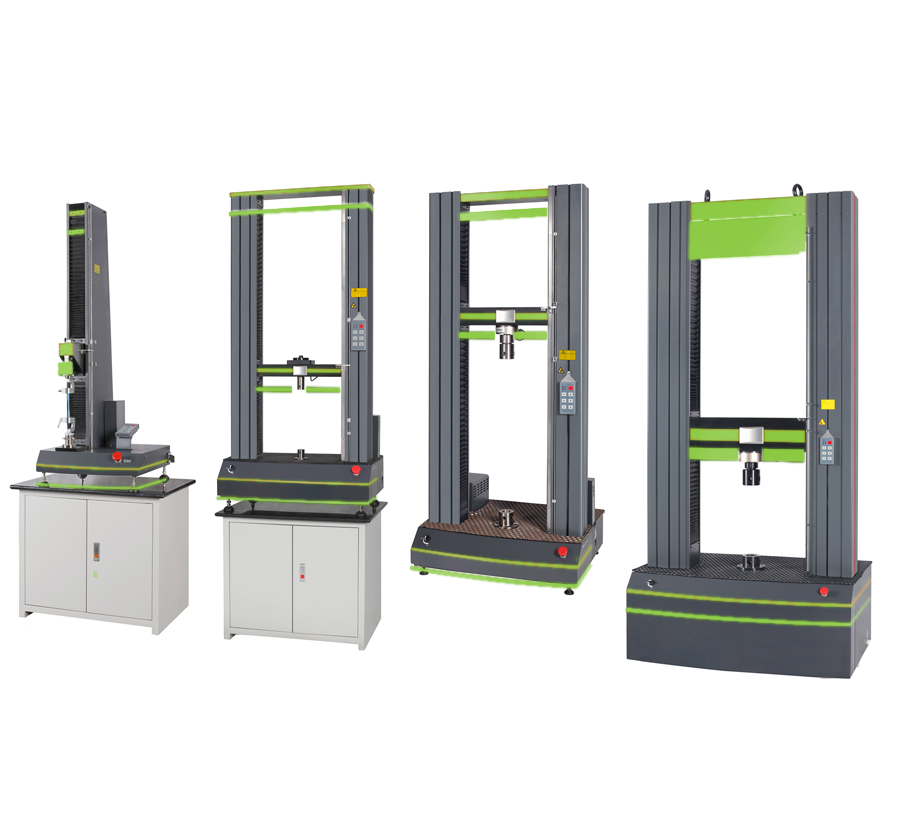 When selecting a tensile testing machine, there are a number of factors that must be considered. Whether you're upgrading in quality or functionality, or have the decision to move your materials testing in-house, you want to avoid buying a machine that doesn't meet the range of testing or materials for your needs. Of course you will be guided by the type of testing - tensile, compression, fatigue, etc. - and the ASTM or ISO standards for the market your product will enter. Other factors to consider when selecting the perfect tensile tester include:
Maximum Speed - at which the system performs can be determined by looking at the machines specifications for motor speeds actuator performance, and drive horsepower.
Maximum Load - required for testing your material will determine the machine size, and if a table-top model is an option or if your testing requires a free-standing, floor model. The maximum loading will also dictate power choices such as hydraulic or electromechanical.
Test Calculations - are a crucial factor when selecting a tester with the right control system. Discuss whether your testing can be completed with a stand-alone digital controller or for extensive calculations and embedded standards libraries, a tester with PC-based software may be required.
Grips and Fixtures - for holding work samples in place, pneumatic grips, manual grips, or rope and thread grips have their specific applications depending on the industry or the specimen geometry. Sometimes a custom fixture may be required for unique shapes and sizes of test samples.
TensileMill CNC Inc. is partnered with well vetted and highly reputable North American and European manufacturers of Tensile Testing equipment. To make the process of selecting the right manufacturer painless for you, we had created an easy submission form below.
Additional Considerations When Choosing The Right Tensile Tester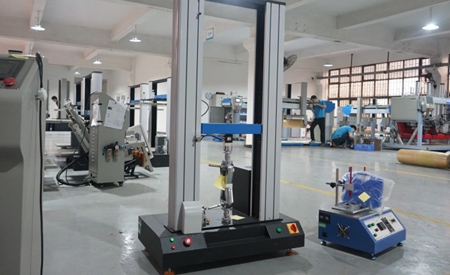 Tensile Testers are manufactured by various companies around world. We suggest you ask the following questions when selecting the right manufacturer for you tensile testing operations:
Is the company established and has a good reputation?
Can I contact organizations who currently have their equipment ?
Is the company quick in replying to service and support inquiries?
Where are the machines manufactured?
Are the spare parts readily available and easily replaceable?
What maintenance measures does the machine require?
What is the expected life expectancy of the machine?
By submitting your Tensile Testing Machine request in the form below you will be connected with the optimal manufacturing facility meeting your technical needs. Once you've been matched with the right tensile tester manufacturer, you can confirm the answers to the above questions to your best satisfaction.
How Do I Prepare the Perfect Tensile Specimen?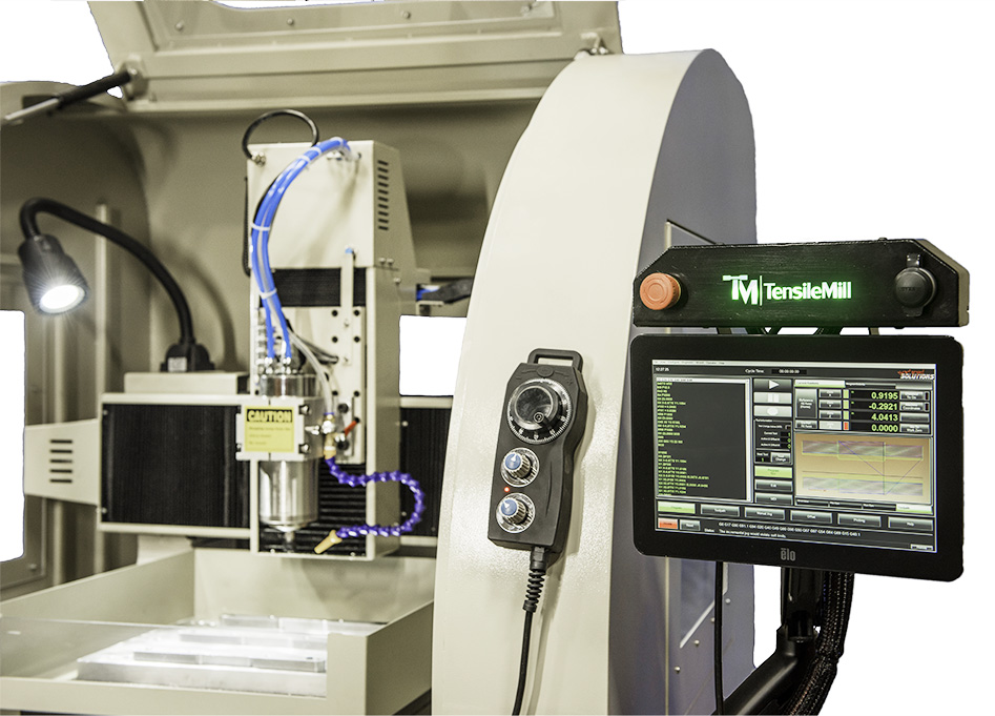 In the past, when manufacturers needed specific materials property data, they had to ship out their raw specimen batches of material to a speciality testing facility for preparation. These facilities would then mill the materials to create a tensile specimen and then test the specimen on a Tensile Tester to identify the material properties.
More recently, manufacturing facilities have recognized the value of bringing the test equipment in-house, as a means of saving time and money. They also gain the benefits of having hands-on control over what constitutes a quality material standard, what testing method is most efficient, and under what conditions the most reliable data is obtained. Additionally, this process saves weeks of time and the investment is easily justifiable in a relatively short period of time.
You now can prepare the perfect tensile specimen with just a few button pushes by investing in an affordable, industrial grade tensile sample preparation machine. If you have a high test volume or want more control in preparing test samples, there are manufacturing distributors who provide designated tensile specimen preparation equipment to be used in-house. One prominent example of a quality tensile specimen preparation equipment provider is TensileMill CNC Inc., a manufacturing distributor of both flat and round specimen preparation machines.
TensileMill's equipment is known for superior ease-of-use, accuracy and efficiency of tensile specimen preparation in accordance to ASTM, ISO, DIN and JIS standards for virtually all types of materials. These machines feature intuitive software allowing ease of operation by any level of engineer experience. For testing, manufacturing or production facilities that require preparation of tensile samples, you will greatly benefit from learning more about TensileMill CNC's line up of tensile sample preparation equipment.
How Do I Perform the Perfect Tensile Test?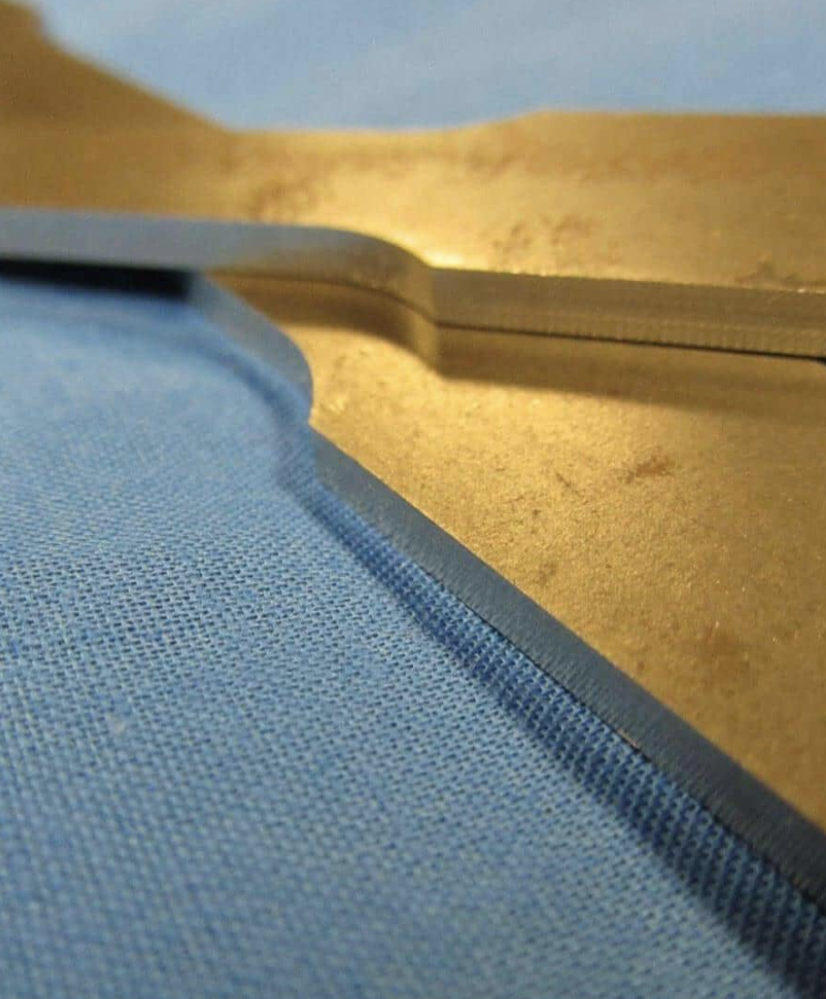 Tensile Testing will expose the sample to a controlled amount of tension until failure occurs. During this test, other material properties can also be determined to guide design or production teams in making product or component improvements. Measurements of direct properties such as breaking strength, reduction in area, maximum elogation, and the ultimate tensile strength of the material can be used to determine other analytic properties through engineering calculations.
The tensile specimen is prepared depending on the test method or equipment being used and the specifications governing the type of material being tested. Usually a sample cross-section will feature a specimen with large, grippable shoulders and a gage section between the shoulders. The smaller gage section is where the controlled deformation and failure test is performed.
The specimens are prepared with either a square or round gage cross-section. The shoulder areas must be ample enough to permit a firm grip by the testing fixture. This gage length may vary depending on the standard specs being followed or the country ISO standards being used - and will also change in relation to the specimen diameter or cross-sectional area. The most common tensile testing guidelines can be found in ASTM D638.
We encourage you to fill out the form below to be connected with the optimal manufacturer of Tensile Testing should you need any further help or in-person assistance.
Contact TensileMill CNC Inc. to learn more about how easy preparing and testing tensile specimen in-house can be. When you partner with the right companies with the right equipment, your tensile testing procedures will become hassle free, cost-effective, and provide an accurate method for preparing and testing your tensile specimens.
WHAT IS TENSILE STRENGTH?
Also known as the Ultimate Tensile Strength, this refers to the ability of an object to withstand forces that may break or cause deformations to it. You can calculate this by dividing the maximum force that an object can resist by its particular cross-sectional area. If two objects with the same cross-sectional area have been tested, the one that can withstand stronger force has a higher tensile strength.
Experts use tensile testers to determine the material's tensile strength. To study the tensile strength of a given material, they also make use of a load cell along with the machine.
Other material parameters may be determined through tensile strength testing, such as:
Elongation
Modulus of Elasticity
Strain
Yield Stress
WHAT DOES A COMPRESSION TEST MEAN?
A compression test refers to the application of force to obtain data about the compressive strength and other related data about a specific material, such as:
Elastic Limit
Elastic Modulus
Ultimate Strength
Yield Strength
To conduct a compression test, the material must be placed in between two plates that can be pushed inwards. Depending on the objective of the study, the compressive forces applied will increase to flatten, crush, or squash the material being tested.
Technically speaking, a compression test produces the opposite result as the tension test. When compressive forces are applied, the dimension of the material that is directly affected becomes smaller. Simultaneously, the same test material gets stretched out in the part that lies perpendicular to the compressive forces.
ARE THERE DIFFERENT TYPES OF COMPRESSION TESTS?
Based on your objective, different versions can be conducted on the object that is subject to compression testing. Most material testers perform the version that involves two plates that are being pushed inwards to apply compressive forces to the test material.
Other versions of compression tests can be used to determine the overall durability of the material. For example, the most common version applies compressive forces on several axes. Another version involves extreme temperatures. Through these variations, material testers will be able to learn more about the qualities and limits of a material if it becomes subject to significant or extreme compressive forces.
ARE THERE DIFFERENT TYPES OF FATIGUE TESTS?
Fatigue tests can be done in different ways to obtain specific data about a material. Below are the most commonly performed types in several industries:
Load Controlled High Cycle
This is performed to determine the ability of an object to withstand elastic forces.
Strain Controlled Low Cycle
When it comes to testing the fatigue limit of an object against plastic forces, this type of fatigue testing is the most suitable.
ARE THERE DIFFERENT TYPES OF BEND TESTS?
Most industries that conduct material testing perform the following types of bend tests:
Guided Bend Test
This test involves applying force in the middle of a horizontally placed material that has 2 supports on each end. As a result, the material being tested will be bent into a "U" shape.
Semi-Guided Bend Test
If you want to bend materials to a specific degree of curvature or angle, this type of bend test is the most suitable for your objective.
Free Bend Test
In this test, the ends of the material get pushed towards one another, thus bending the material even without applying force on its middle part.
Fracture Toughness Test
This test requires a material that has been pre-fractured already. Rather than the middle of the ends of the test material, the bending force is applied on the opposite side of the existing fracture.
Select the most appropriate bend tests for your test material based on the data you want to obtain.
WHY SHOULD A COMPRESSION TEST BE PERFORMED?
Compression tests are conducted to extract objective data about the suitability of a particular material for an application that involves compressive forces. It determines how materials would respond to specific degrees of compression. If pushed to the limit, this test can also provide information about how much compressive force the material can withstand.
CAN FATIGUE TESTS BE CONDUCTED ON ANY MATERIAL?
Fatigue tests are usually performed depending on how the materials are going to be used. As such, various types of materials undergo fatigue testing.
For example, many opt to subject metals and composites to fatigue testing because their typical applications involve cyclical forces that may break or bend them. To ensure that these materials will be able to withstand such forces, the fatigue limit must be determined through testing.
Ideally, only materials that pass a fatigue test without any issue will be used for their intended purpose. Otherwise, a sub-par fatigue limit may result in a low-quality creation that might pose a serious risk to the safety of its end-users.
Other materials that commonly undergo fatigue testing include:
WHAT DOES YOUNG?S MODULUS TESTING MEAN?
Young's modulus is also referred to as the modulus of elasticity. By testing this, you will find out how much strain the test material will get if you apply an axial stretching load to it. As such, Young's modulus is reported as either PSI or N/mm2-much like the ones used to describe the amount of pressure that has been applied to the material.
If the modulus of elasticity is measured relative to tensile testing, then this can become the tensile modulus of the material. The majority of testing machines for tensile strength have functions that enable Young's modulus testing.
DO YOU CONSIDER TRAINING AND INSTALLATION FOR ALL CLASSES OF TENSILE TESTING SYSTEMS AS MANDATORY?
No, but we are here for you in case you need further support from us.
We can assure you that the simplicity of our Tensile Testing systems-whether it is Class A, B, or C-will enable you to set things up on your own. Every cable needed for the installation comes with the unit. Many of our clients find the installation to be easy since we also provide a clear and comprehensive set of instructions.
If you still need our assistance, feel free to reach out to us any time. Upon request, one of our qualified engineers may conduct a remote online session to handle your queries. Through this, we can help you save on time and costs while still enabling you to successfully conduct the training and installation of our systems.
IS THE STANDARD 12-MONTH UNIVERSAL TENSILE TESTING SYSTEMS WARRANTY EXTENDABLE?
Yes, it is!
Just let us know which unit you would like to purchase, and how long the warranty period should be for it. Based on your requirements, our qualified consultants will send a quote for your evaluation.
WHAT OPTIONS DO I HAVE FOR TRAINING AND INSTALLATION OF MY TENSILE TESTING SYSTEM?
Depending on the degree of support you are requesting from us, feel free to choose any of the following options:
If you need a standard set of instructions and tips
We can provide you a copy of a training and installation video for the system you have purchased from us.
If you need quick answers and explanations
At no extra cost, TensileMill CNC will conduct a remote session to guide you through the training and installation process.
If you need in-depth assistance
Our engineers may go to your site and perform physical training and installation upon request. Take note that the quoted price for this will depend on your location and the number of training days.
WHAT DOES A FATIGUE TEST MEAN?
Materials experts use a fatigue test to determine whether or not an object is capable of handling and resisting repeated loading and unloading conditions.
In general, a fatigue test requires the object to be subjected to a cycle of loading and unloading forces that are at least as powerful as the actual forces that will be applied to the object if it is used as originally intended. Depending on the usage and the material, these forces can be in the form of:
Bending
Compression
Tension
Torsion
Some material testers require a combination of these forces to fully test the capabilities of the material. The majority, however, apply alternating tension and compression.
A fatigue test lasts for either a certain number of cycles of loading and unloading or in most instances, up to the point of failure.
WHAT DOES A BEND TEST MEAN?
A bend test is the application of force in the exact middle part of a material that is being tested. By doing so, they will be able to determine how much force is needed to bend the said material into the shape they want.
The objective of doing a bend test, therefore, is not to check how far you can bend a material before it breaks-that?s what a flexure test is for. Instead, it will show you how much bending force must be applied to the material to achieve a particular angle or radius of curvature.
HOW MUCH SHOULD I PAY FOR A UNIVERSAL MATERIALS TENSILE TESTER?
Materials testing machines have a critical role in several industries. Selecting one should be done with extra care since it can spell the difference between high-quality and low-quality products. These machines can also perform various types of tests, which can provide different material data points. Therefore, there are a lot of factors that must be considered when evaluating the price of a materials tester.
TensileMill CNC understands that purchasing a universal material tensile tester is an important decision that requires careful deliberation. To help you figure out how much investment you have to make for this, here are some pointers to keep in mind while looking for your ideal machine:
Think about the types of tests that you are going to run. The majority of material testers in the market can perform multiple tests, thereby saving you from having to purchase a lot of units to meet your testing needs.
Special features like data analysis software may come for free with the equipment, but others offer such for an added cost.
Most machines come with preset settings for several standard tests that comply with global industry standards. However, for customized tests for specific materials, you would likely have to pay extra for the upgrade.
Materials testing requires getting a suitable grip for the material and the test itself. Standard grips meet the requirements of most tests. On the other hand, testing for certain applications may involve grips with customized shape, size, or material that cost more than the standard ones.
HOW WILL WE BENEFIT IF WE CHOOSE TO BUY TENSILE TESTING SYSTEMS FROM TENSILEMILL CNC INC.?
By purchasing your ideal universal tensile tester from our company, you will get the following benefits:
User-Friendly Systems
TensileMill CNC has always been an advocate of effective systems that are easy to operate and maintain. By keeping in mind the end-user during the development stage, we guarantee that all systems we offer are the simplest and most optimal solutions you can find in the market today.
Low Force Resolution
Expect accurate and repeatable tensile testing if you conduct one using TensileMill CNC products.
To demonstrate this, imagine that you are testing a 100 kN system. Since we set a minimum force resolution of 1/500,00 in our tensile testers, the force resolution will drop to 0.2 N with a force accuracy of 0.2% (100 kN/500,000 FS = 0.2 N/FS).
If you have bigger requirements, such as 300 kN or higher, you can purchase more sub-load cells so that you have even lower testing capacities. Contact us now to learn more about how you can further enhance your force resolution.
Wide Variety of Grips and Fixtures
TensileMill CNC has everything you need for your universal tensile testing requirements! Pulling, bending, shearing, compression, and many more?most of our standard grips and fixtures are always in stock and readily available.
Need custom grips for your tensile testing? We also offer those, though it may take us 1 to 4 weeks to manufacture.
Contact us to learn more about our full scope of grips and fixtures.
Competitive Prices
Our high sales volume allows us to give impressive prices that are much lower compared to our major competitors.
As a standard, TensileMill CNC quotations already include your desired grips and fixtures in the price of the main unit. Furthermore, we have equipped each unit with our state-of-the-art tensile testing software, controller, remote control handset, and many more.
Want to know more about how much value for money you can get by choosing our products? Simply confirm your technical needs, and request a quotation today!
Our high sales volume allows us to give impressive prices that are much lower compared to our major competitors.
Reliable Customer Service and Support
TensileMill CNC?s philosophy is to provide exceptional customer service for every product and service we offer. That?s why thousands of manufacturers, educational facilities, government bodies, NDT facilities, laboratories, and many more choose Tensile CNC equipment for their critical and most important quality control requirements.
For over 18 years, we have delivered high-quality material testing equipment along with high-end services to all of our clients. We aim to continue doing so for the years to come.
Superior Warranty
To show how confident we are in the workmanship of our products, TensileMill CNC offers a 12-month plus extensive warranty coverage to all of our clients.
Quality is never an accident; It is always the result of high intention, sincere effort, intelligent direction, and skillful execution; It represents the wise choice of many alternatives, the cumulative experience of many masters of craftsmanship.
Every machine we make comes with a lifetime service and support guarantee. As long as you are operating one of our machines, you will have peace of mind, knowing that we are always here when you need us. Answering your questions, troubleshooting any issues, and providing effective solutions?we guarantee that our engineers will handle them all in the shortest time possible.
Even if you are outside the warranty terms, we?ve got you covered! Our company has a network of partners all around the world who can send a qualified engineer to visit your facility and provide assistance, as needed. Just give us a call or an email about your question or issue, and we will be there for you.
IS IT OKAY TO PURCHASE A TENSILE TESTING SYSTEM FIRST BEFORE GETTING A FURNACE SYSTEM?
Of course!
Just be sure to select a tensile testing system that can be upgraded with a high-temperature furnace system. Our engineers can provide physical or remote assistance once you have decided to make this step later on.
WHAT IS MATERIAL FATIGUE?
Material fatigue occurs when stress has been repeatedly applied to a particular object. Various factors can influence how much material fatigue may be observed, such as the design, size, and shape of the object, and the amount of stress it usually receives.
Testing for material fatigue is necessary since it can lead to bigger problems later on. Ever notice how cracks or deformations appear before a material breaks? These signs of damage can be visible to the naked eye, but sometimes, they may become overlooked or too small to be noticeable. Furthermore, though these effects of stress tend to start small, they can grow larger until the material reaches its point of destruction.
WHAT DOES FATIGUE LIMIT MEAN?
Fatigue limit refers to the maximum amount of stress that a material can handle before it breaks. An object with high fatigue limit can withstand more repetitions and a longer duration of stress application.
WHY SHOULD A BEND TEST BE PERFORMED?
Most material testers conduct bend tests to verify if a particular material is safe to be used for its intended purpose. Through this test, they can obtain the following material data:
Bend Strength
Ductility
Fracture Resistance
Fracture Strength
A material that breaks during a bend test is likely not the best choice when the supposed application involves strong bending forces.
HOW COMPATIBLE WILL FUTURE ACCESSORIES BE WITH EXISTING OR OLDER MACHINES?
TensileMill CNC aims to produce systems and machines that can remain operational, useful, and relevant for several years. As such, we make it a point to develop future accessories that are compatible with not just our current line but also with most of the older testing machines.
We understand that tensile testing systems tend to be a big investment for our clients to make. To show our appreciation for choosing us, our company promises to help you gain significant returns by ensuring that your testing machines can stay up-to-date for the years to come.
IF WE PURCHASE A TENSILE TESTER, SHOULD WE ALSO GET A HIGH-TEMPERATURE FURNACE OR COOLING CHAMBER AT THE SAME TIME?
Nope. Though it be would be much simpler for both the company and our clients to have all of these in a single order, you don't have to buy a furnace or cooling chamber if you do not need them now.
Both types of tensile tester-static and dynamic-that TensileMill CNC offers can be upgraded later on. Remember to inform us at the time of purchase in case you plan to make these additions. In that way, we would be able to provide you with the necessary brackets for the furnace or the cooling chamber.
Learn more about these upgrades by talking with our consultants today.
WHAT TEMPERATURE CAN THE TENSILE GRIPS WITHSTAND ON MY TENSILE TESTING MACHINE?
TensileMill CNC guarantees that all of our standard and specialty grips are designed to handle high temperatures. With a maximum temperature limit of 1,050 degrees Celsius, you can be certain that every grip we offer will always give you accurate readings.
DOES TENSILEMILL CNC COMPLY WITH THE GLOBAL STANDARDS FOR TESTING MACHINES?
Yes, we do!
Our company guarantees that all of our products are compliant with the global testing standards. We also have pre-made templates that enable the quick and easy replication of the most common global standard tests performed in various industries.
Since global testing standards get updated from time to time, we also ensure that our engineers are aligned with the most recent industry standards, such as ASTM, EIN, GB, and ISO.
WHY SHOULD A FATIGUE TEST BE PERFORMED?
Material testers perform fatigue tests to provide critical information about the long-term durability of a material if it is used for a particular application.
Aside from overall durability, a fatigue test is an objective way of discovering or confirming other qualities of the material, such as its crack resistance and fatigue strength. Fatigue life, which refers to the number of cycles that a material can go through before breaking, can also be obtained through this method.
The majority of testers take note of the highest amount of force that a material can withstand during fatigue testing. Compared to tests that use a singular application of force - such as bend tests, and alternating tension-compression tests-fatigue testing makes use of fluctuating forces instead.