Robust Round Tensile Sample Preparation Machine
General
The TensileTurn CNC - Industrial Upgrade Model Round Specimen Preparation is a conveniently sized automatic CNC lathe designed to prepare accurate round tensile specimens to achieve the highest accuracy in tensile results. The TensileTurn CNC features our award winning touch screen tensile milling interface to allow any operator, with or without machining experience, to quickly prepare tensile specimens as per your desired size. By simply selecting a common tensile size from our library of common standards (ASTM, ISO, DIN, etc) or by entering your own dimensions on the touch screen numerical keypad, TensileTurn CNC is ready to machine specimens up to 5" in diameter (up to 1" by 1" squares) and up to 8" in length after only a few simple steps.
Small Footprint
Perfect for Untrained CNC Machinist
Turnkey Solution
Super User-Friendly
Accurate and Repeatable Results, Every Time!
Free Proof of Concept
Specimen Preparation CNC Machine
TensileTurn CNC - Round Specimen Preparation CNC machine also features our complete Carbon software which allows the more experience operators to program the TensileTurn CNC for universal applications for cutting, sanding, knurling, drilling, facing or turning.
TensileTurn CNC can prepare standard round tensile specimens, sub-size specimens, threaded tensile specimens, button-head tensile bars, fatigue specimens and other round testing specimens. The operator is only required to simply load the machine with either round, square or irregular stock.
TensileTurn CNC - Round Specimen Preparation CNC machine allows your laboratory personnel to bypass any wait times with your machining center and prepare their own tensile specimens ready for testing in a matter of minutes. The production of high quality tensile specimens combined with ease of use is what sets the TensileTurn CNC apart. It enables the rapid milling of precisely measured round and button head specimens for superior tensile testing results.
The operators of this tensile specimen preparation lathe never have to stress about consumables and spare parts. Lathe tooling including fixtures and inserts covering virtually all ranges of metal, plastic and even composite materials is either supplied at no additional cost with the Turnkey Solution package or can be easily purchased at a later time. The spare parts are either stocked or have relatively short lead times to ensure no production interruptions.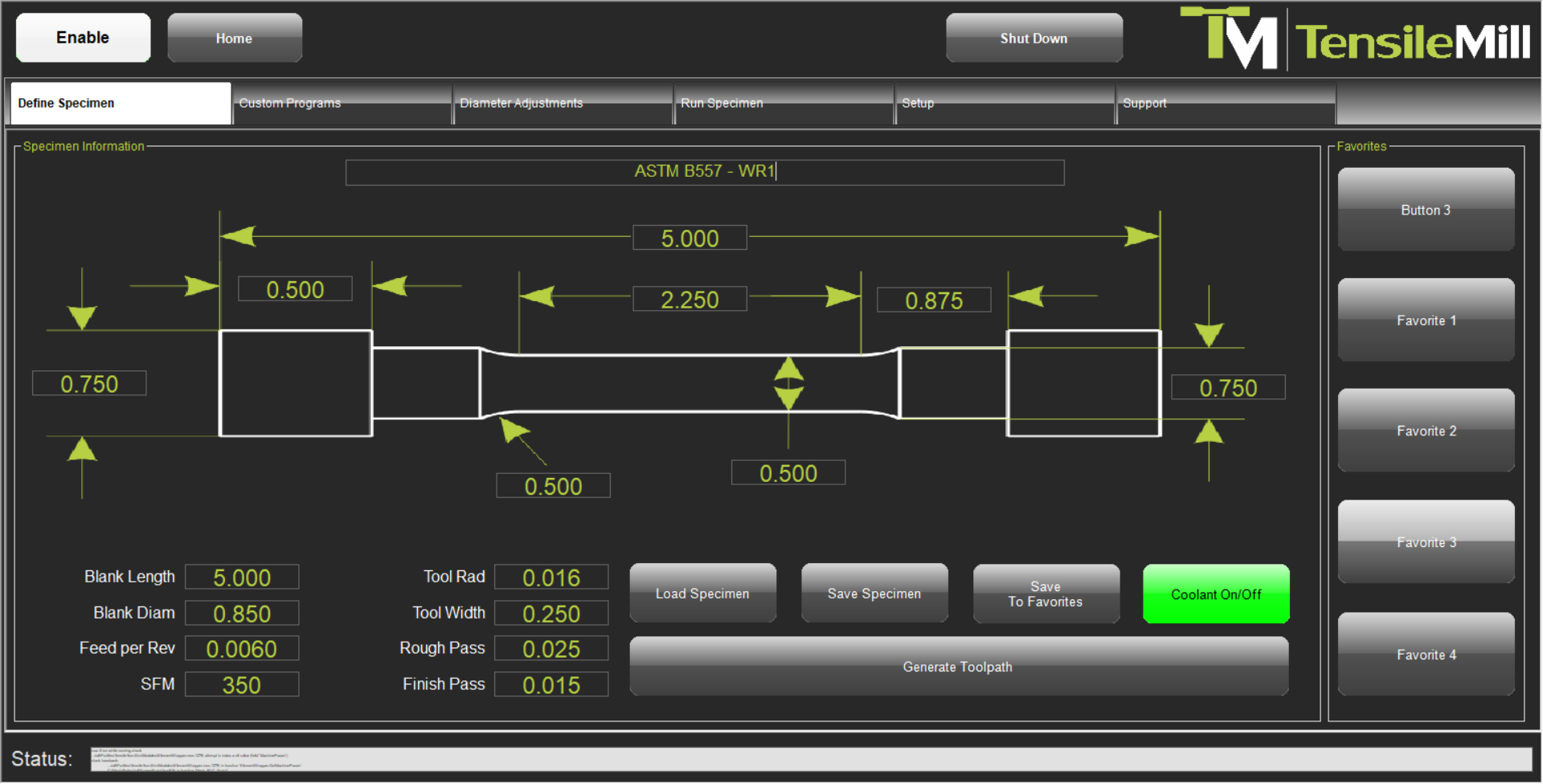 Controller
Our easy to use touch screen controller is equipped with our complete Carbon software. Our control systems include 2Mb of storage, Ethernet, USB ports, macro B programming, 16 tool offsets, 6 work offsets, drilling canned cycles, scaling and mirroring, turning CAN cycles, cutting edge dual mode cutter compensation, and more. Along with the tensile milling software interface, Carbon also allows the operator to access the FANUC Industrial CNC Software used for professional CNC Control functions. Our Carbon software is constantly having new features developed, and every TensileMill CNC system includes updates at no additional cost.
Features
Granite frame and balls crews - robust and shock absorbent frame offering a stable foundation for industrial grade high speed machining
Stainless steel enclosure
4000 RPM 2 HP (1.5kW) Motor
8 position turret, 1/2" shank OD tools
4 Boring tool holders, 3/4" shank
Servos: FANUC Bis 0.5 Servo
Center drilling automation
Video
TensileTurn Industrial Upgrade v. 2022
TensileTurn Industrial Upgrade Original
Complete Round Tensile Sample Preparation Procedure
Preparing Threaded End Specimens
Technical Specifications
Technical Specifications

Imperial

Metric

Swing Over Bed
Ø8"
Ø203mm
Center Width
9"
228mm
Spindle Bore
Ø1"
Ø26mm
Spindle Speed Range (rpm)
50-4000rpm
Lathe Chuck
Ø4"
Ø101mm
Tool Changer Type
Electric
Number of Tool Position
8 with ½" shank external tools
Tool Holder
4 Boring Tool Holders, ¾" Shank
Max Section of Tool
0.5" x 0.5"
12.7mm x 12.7mm
X Travel
7.09"
180mm
Z Travel
8.85"
225mm
X Axis Speed
600in/min
15m/min
Z Axis Speed
600in/min
15m/min
Position Accuracy
±0.0004"
±0.01mm
Repeat Position Accuracy
±0.0002"
±0.005mm
Tailstock Taper
MT2
Tank Capacity
10Gal / 38L
Total Connection
3.2KW
Servo Motor
FANUC Bis 0.5
350W AC
Main Motor Power
1.5KW
2HP
Main Motor (rpm)
4000
Coolant Pump Power
1/8 HP
Power Requirements
220V VAC 20A
Pneumatic (Air) Requirement
Compressed Air Connection 90PSI
Consumption: 87L / min (3cfm)
Weight
810 lbs.
368.2 kg
Dimensions (LxWxH)
43.8" x 26" x 42.5"
1.1m x 0.66m x 1.1m