International standards: A615, BS 4449, ISO6892, ASTM E8, ISO15579-2000, ISO679, ISO7438-1985, JIS Z2241, and other industry standards.
Description
The SHM class A Series Servo Hydraulic Universal Testing System is a 600kN / 1000kN multi-column testing system can be applied to a broad range of testing applications with accuracy down to ±0.5% of reading value. Such applications include, but not limited to tension, compression, shearing and bending.
The NG-SHM Class A series is designed to provide a solution for your high-force mechanical testing of a diverse range of materials covering many different industries.
Servo Hydraulic Universal Testing System 600kN / 1000kN Load Frame Structure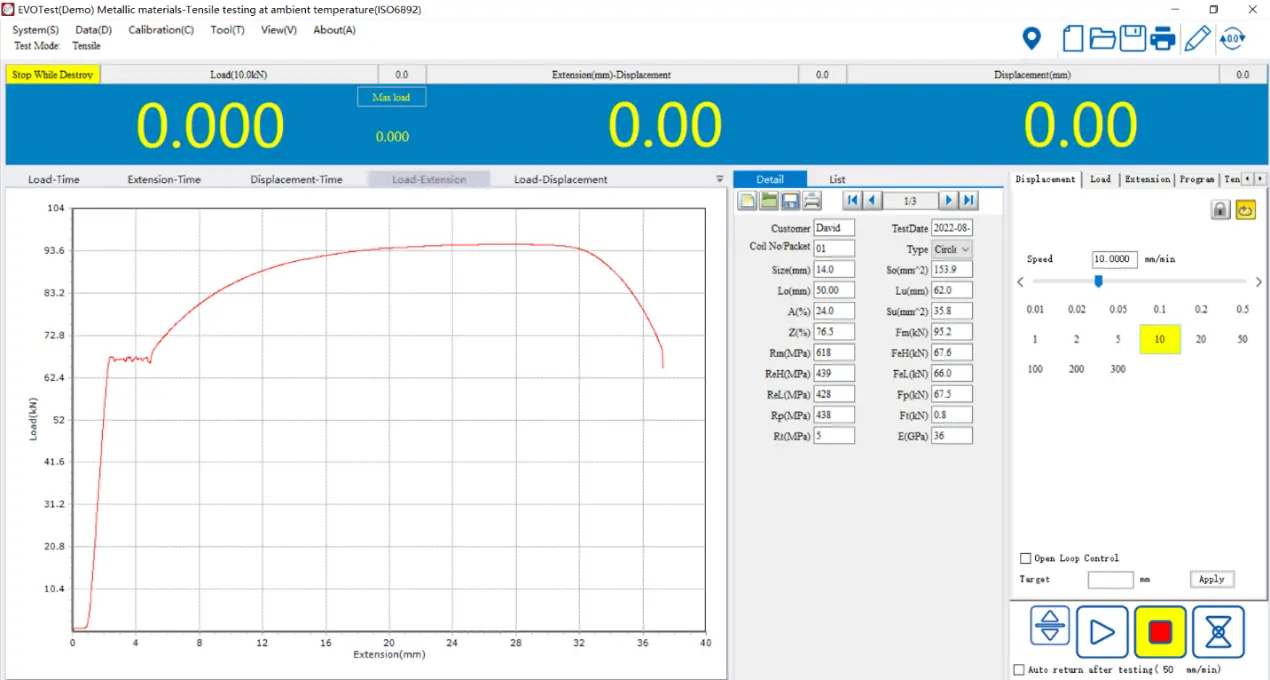 It adopts 4 columns and 2 leading screws structure for highest durability.
Hydraulic operated tensile grip for ease of operation.
Upper test space between upper crossbeam and moving crossbeam is for tensile test. Lower test space between moving crossbeam and workbench is for compression, bending.
The load cell directly measures the testing force for high accuracy.
The chain type transmission is easy for maintenance.
Clearance seal of oil cylinder does not use O seal ring to avoid aging/wear problems.
Half-open tensile jaw seat is superior to the fully-open type. This guarantees no deformation to the mouth of tensile jaw seat, and 100% avoidance of slippage during tensile test.
Servo Hydraulic Universal Testing System 600kN / 1000kN Technical Specifications
NG-SHM600 Class A
NG-SHM1000 Class A
Class
A
A
Capacity
600kN
1000kN
Measure Range Accuracy
1% to 100%
1% to 100%
Testing force accuracy
±0.5% of reading value
±0.5% of reading value
Control range of stress rate
1-60MPa/S
1-60MPa/S
Adjust range of test strain rate
0.00025/S-0.0025/S
0.00025/S-0.0025/S
Precision of deformation measurement
±0.5%
±0.5%
Precision of displacement measurement
±1%
±1%
Control range of displacement rate
0.5mm/min-70mm/min
0.5mm/min-70mm/min
Tensile space
850mm
850mm
Compression space
750mm
700mm
Clamping diameter of round specimens
φ13-φ40mm
φ13-φ60mm
Clamping width of flat specimens
90mm
120mm
Clamping thickness of flat specimen
0-30mm
0-40mm
Diameter of upper and lower plate
φ200mm
φ210mm
Piston stroke
250mm
250mm
Power supply
3-phase 4-wire 220V, 60 Hz
3-phase 4-wire 220V, 60 Hz
Dimension
Main Unit: 36.22x25.60x90.55-inches /
920x650x2300(mm)
Power Box: 43.3x25.2x39.4-inches
1100x640x1000 (mm)
Main Unit:
39.76x32.00x98.42-inches / 1010x815x2500(mm)
Power Box:
43.3x25.2x39.4-inches / 1100x640x1000 (mm)
Weight
Main Unit: 6614 lbs / 3000kg
Power Box: 441 lbs / 200kg
Main Unit :7716 lbs / 3500 kg
Power Box: 441 lbs / 200kg
Servo Hydraulic Universal Testing System 600kN / 1000kN Standard Accessories List
Item
Description
Control PC
Dell
Servo control box
3 Close Loop Control
Hydraulic Servo Valve
ATOS (Italy)
Tensile Test Accessories
Tensile grips for round specimen:
Φ13-Φ26mm, Φ26-Φ40mm
Tensile grips for flat specimen:
0-15mm, 15-30mm
Compression Test Accessories
Platen size: Φ200mm
Load Cell
High precision 0.5 class
Photoelectric encoder
Used to measure piston stroke, 0.01mm
Clip-on Extensometer
Gauge length 100mm, Max extension 25mm
Servo Hydraulic Universal Testing System 600kN / 1000kN Half-opened tensile jaw seat
The newly designed half-opened tensile jaw seats are built to avoid deformation by drastically increasing the strength of the jaw mouth area. This unique feature delivers high quality and repeatable test results and unforeseen cost savings for long-term operation.
Load Cell directly measuring testing force
For testing force measuring, we use a high precision load cell for direct measurement.
The test accuracy is 0.5 class, which means ±0.5% of the reading value.
Competitor brands, typically use oil pressure sensor, which offers indirect measurements, therefore the test accuracy goes down to class 1 or ±1% of the reading value.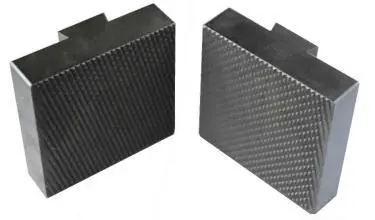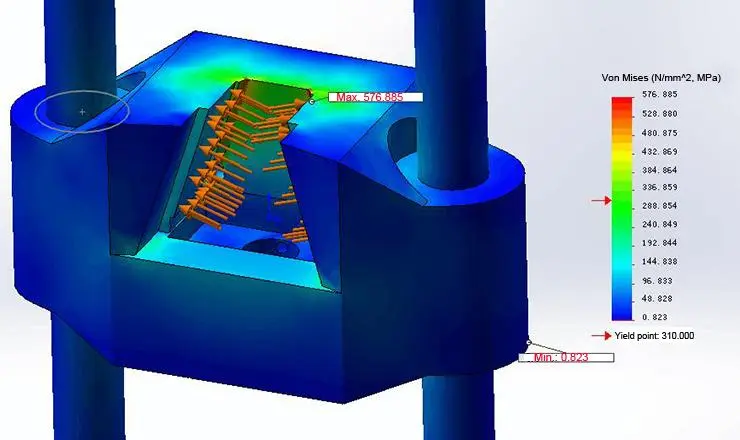 For the sealing method of the oil cylinder, we adopt oil clearance sealing technology. This method offers the advantages of testing force unaffected by the friction, long life and stable working performance.
When the clearance-sealed cylinder piston is loading with pressure, the clearance between the cylinder and the piston will be filled with hydraulic oil, forming an oil film. When the piston rises or falls, this creates a virtual free fall, unaffected by friction.
Typically, other brands utilize an O-ring seal in the oil cylinder, which wears over time. It is not convenient for the end-user to replace it.
High quality tensile jaw for rebar tensile test
It uses wedge type hydraulic operated tensile grip. The system is controlled by press of a button.
It uses high strength alloy steel 20CrMnTi material to make the tensile jaw. It is developed by strictly following a series of working procedure, like blanking, forging & hammering, carburizing, rough milling, grinding, sawing, re-milling, quenching, blueing, grinding, etc.
The teeth have been carburized two times with layer 1.7- 2.2mm, 61-65 HRC. In this case, the quality is guaranteed. The life of this tensile jaw is maximized.
Servo Hydraulic Universal Testing System 600kN Functions and features of Software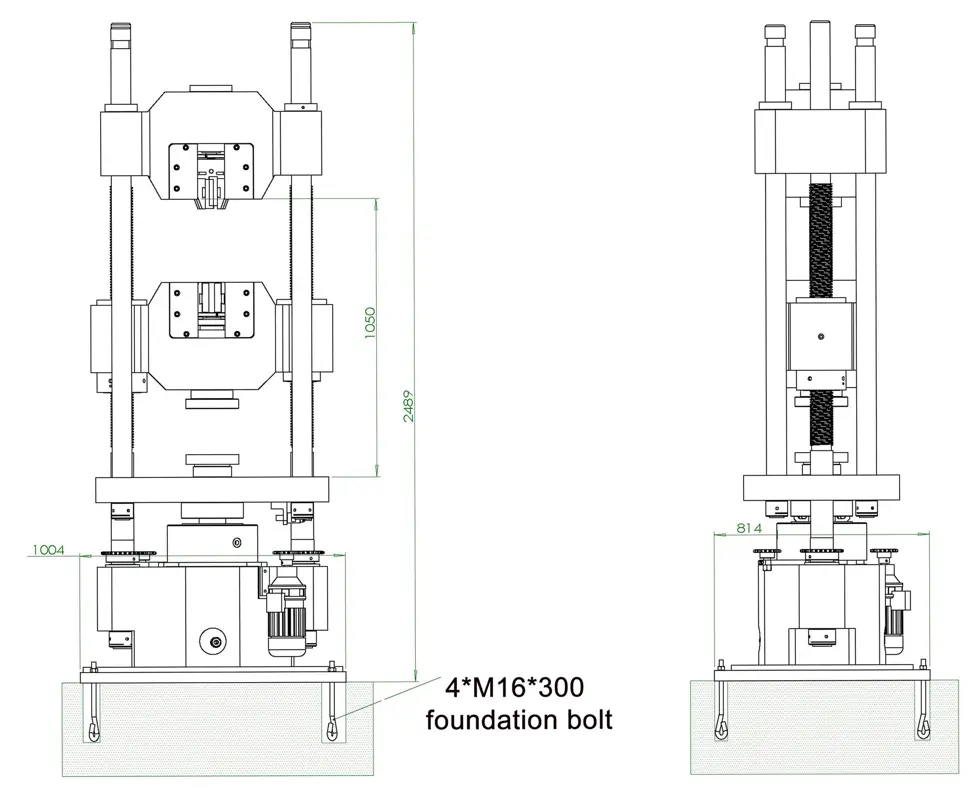 User-Friendly Interface Testing Software: EVOTest, equipped with essential testing functions.
This software operates on the Windows system, compatible with Windows 10 and other versions. It boasts an extensive library of international testing standards, including ISO, ASTM, JIS, and BS.
The control mode encompasses options such as constant force, constant displacement, constant deformation, and more. During the testing process, it provides graphical representations of force-displacement, force-time, force-deformation, stress-strain curves, and allows seamless switching for easy observation and comparison.
Introducing a new test module that enables users to create new tests individually or in batches.
A curve analysis module empowers users to scrutinize test curves. Users can pinpoint specific curve points using the mouse.
The data inquiry module enables users to swiftly locate required test data from an extensive database, provided they have relevant parameters.
Overload protection: The machine will automatically halt its operation if the load exceeds 2%-10% of the load sensor's maximum measuring capacity.
The software also offers automated reminders to remove the extensometer before the specimen reaches its breaking point.
Tensile Test Curve and results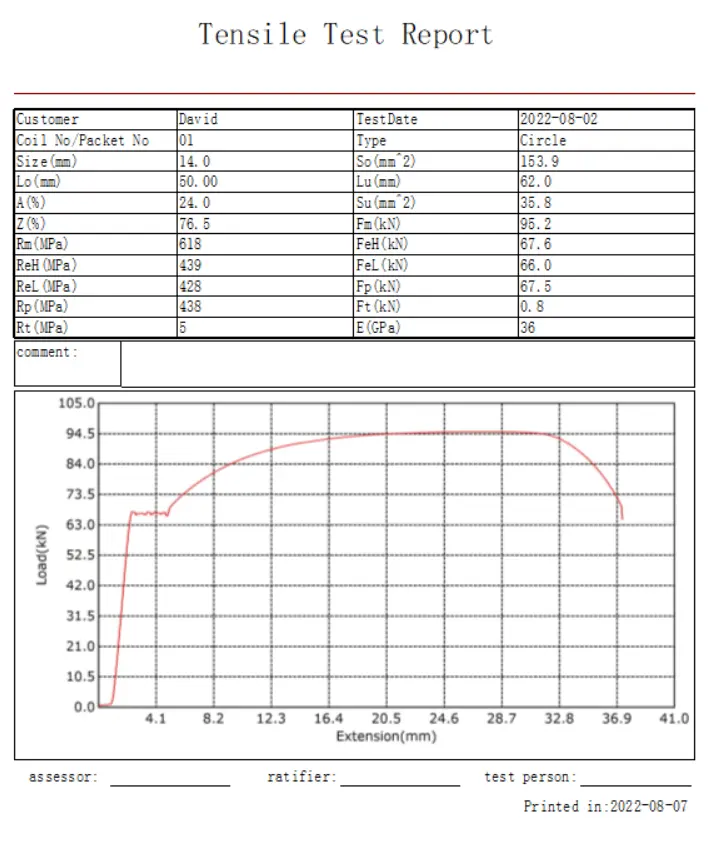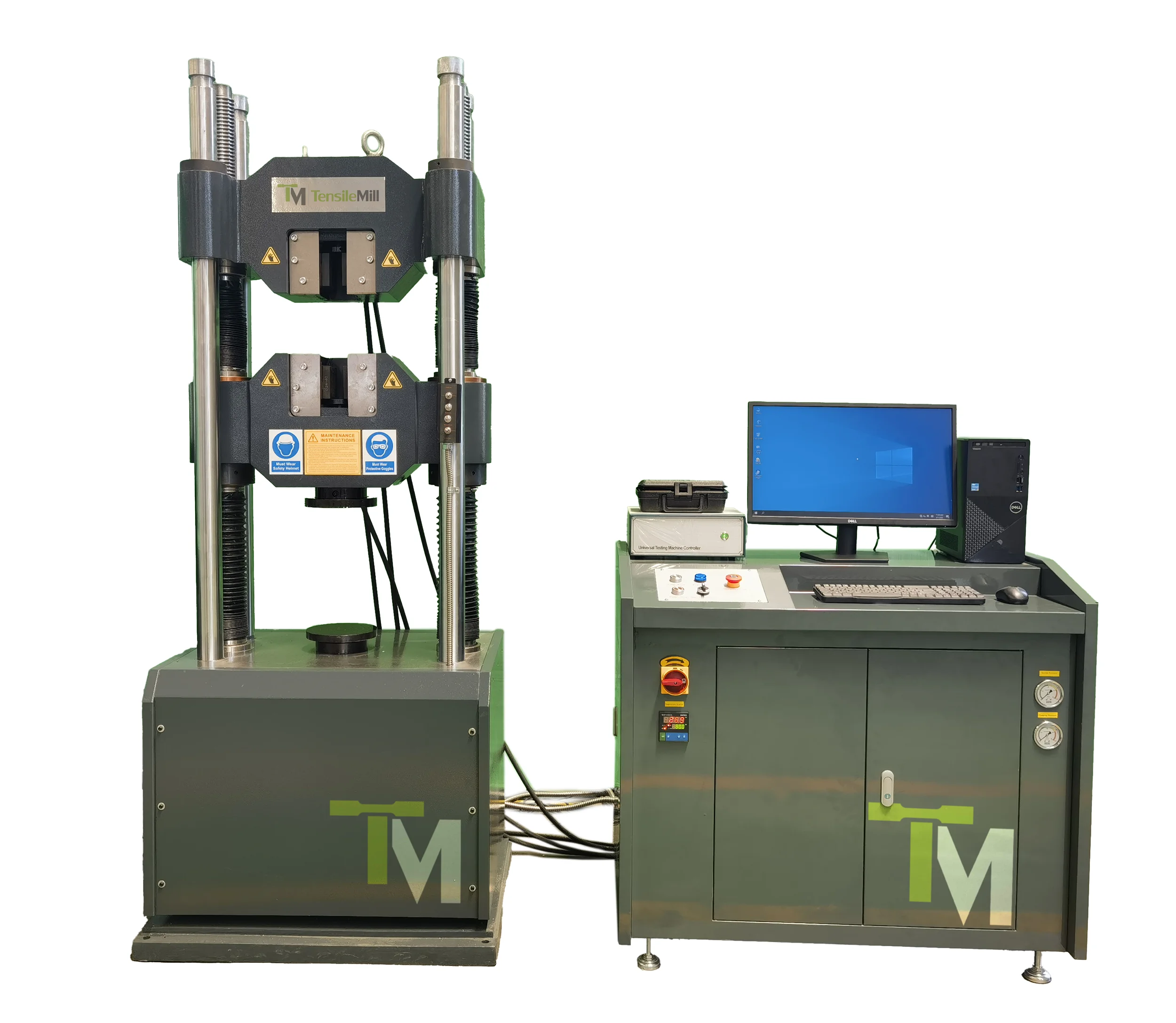 Test report example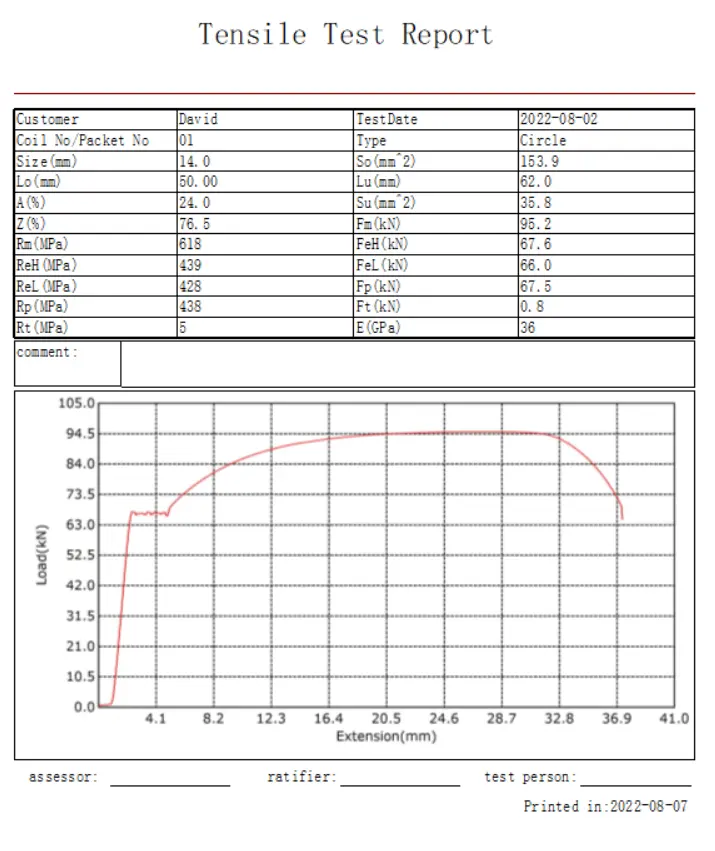 The definition of the testing results
Lu (mm): final gauge length after fracture.
A (%): percentage elongation after fracture.
Su (mm2): minimum cross-sectional area after fracture.
Z (%): percentage reduction of area.
Fm (kN): the maximum testing force.
Rm (MPa): the tensile strength.
FeH (kN): upper yield force
ReH (MPa): upper yield strength
FeL (kN): lower yield force
ReL (MPa): lower yield strength
Fp (kN): proof force
Rp (MPa): proof strength, like Rp0.2
Ft (kN): total proof force
Rt (MPa): total proof strength
E (GPa): modulus of elasticity
Servo Hydraulic Universal Testing System 600kN / 1000kN Main Features
Load Frame: The upper and lower beams are constructed from robust cast steel, featuring a four-column and two-leading-screw structure that ensures high stiffness and safety. This design provides dual testing spaces, with the upper portion designed for tensile testing and the lower portion for compression, bending, and shearing tests. Notably, the tensile testing space is adjustable for added testing convenience.
Hydraulic Operated Tensile Grip: Utilizing a high-stiffness wedge-type grip, this hydraulic-operated tensile grip boasts a durable tensile jaw with adjustable clamping force. Its swallow-tail structure enhances grip stability during testing.
Load Measurement: Precise load measurement is achieved through a high-precision load cell, ensuring exceptional accuracy, reliability, and consistency. The testing accuracy is rated at 0.5 class.
Displacement Measurement: The system employs an optical encoder known for its high accuracy and stability to measure displacement.
Deformation Measurement: For deformation measurement, a high-precision electronic extensometer is utilized.
Multi-Protection: The system offers multiple layers of protection, both through software and hardware, including safeguards against overloads. Additionally, there are position-limited protections for the piston and lower crosshead.
Clearance Eliminating Mechanism: A mechanism is in place to eliminate clearance between the tensile nut and the leading screw. This integration ensures the constant loading of the system.
Control System: The machine adopts a fully digital closed-loop control system, enabling flexible and seamless switching between load, displacement, and extension control modes.
Power Pack: The power pack features a low-noise, environmentally friendly design, employing a user-friendly differential pressure servo system. This not only reduces energy consumption but also minimizes heat generation and safeguards the oil-way.