International standards: ASTM E4 and ISO 750001
Test standard: ISO 898-1: 1999, ISO 898-2: 1992, ISO 898-6: 1994, ASTM F606-07 GB/T 1231-2006 and other industry standards.
Description
The Servo Hydraulic Universal Testing Machine 2000kN provides a reliable testing solution for evaluating materials' mechanical properties. This state-of-the-art test device is thoughtfully designed, featuring a solid structure and utilizing a hydraulic-operated tensile grip. Furthermore, its two distinguished test spaces facilitate both tensile and compression testing with maximum accuracy, making it a crucial asset for laboratories and the industrial quality control sectors.
This computer control servo hydraulic universal testing machine is mainly used for max. testing force, tensile strength of bolt and nuts, etc fasteners.
It adopts precision Italian ATOS servo valve hydraulic power pack to load, high precision load cell to measure testing force, photoelectric encoder to measure displacement. It is three closed-loop control (constant load, displacement, strain).
Bolts grade: 8.8, 10.9 and 12.9
Bolts specification: M6- M56
NG-SHM2000 Class A
Class
A
Max. testing force (kN)
2000
Accuracy of testing force
Φ15-Φ70
Round specimen diameter range (mm)
10-70
Flat specimen thickness range (mm)
120
Flat specimen width range (mm)
800
Tensile space (mm)
700
Compression space (mm)
8.8 grade ≤M56
10.9 grade ≤M52
12.9 grade ≤M48

Bolt test specification
250
Max. piston stroke (mm)
Φ15-Φ70
Power supply
220V / 480V ±10%, 50Hz, three phase
Work environment
Room temperature~ 40°C
Relative humidity≤ 80%
Dimension of load frame
43.30x46.85x124.00-inches
1100x1190x3150 mm
Dimension of control cabinet
45.27x34.25x25.60-inches
1150x870x650 mm
Weight
19,840 lbs / 9,000 kg
Servo Hydraulic Universal Testing Machine 2000kN Load Frame Structure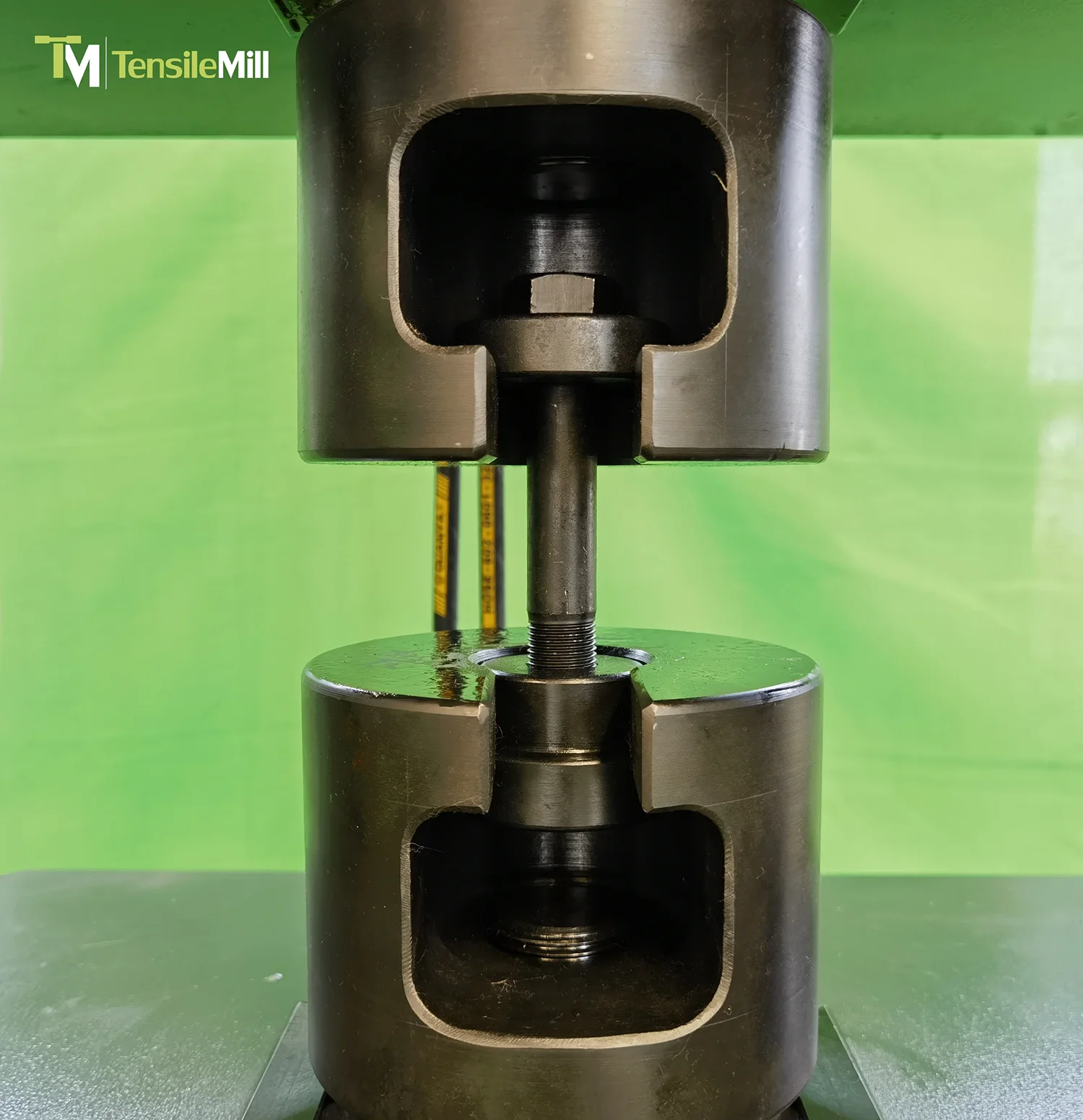 It features a structure with 4 columns and 2 leading screws, ensuring the utmost durability.
The hydraulic-operated tensile grip facilitates ease of operation.
The upper test space, located between the upper crossbeam and the moving crossbeam, is designated for tensile testing. Meanwhile, the lower test space, positioned between the moving crossbeam and the workbench, is intended for compression and bending tests.
High accuracy is achieved as the load cell directly measures the testing force.
The chain-type transmission system is straightforward to maintain.
To prevent aging and wear issues, the oil cylinder's clearance seal does not utilize O-seal rings.
The half-open tensile jaw seat surpasses the fully-open type, ensuring the mouth of the tensile jaw seat remains free from deformation and 100% prevents slippage during tensile testing.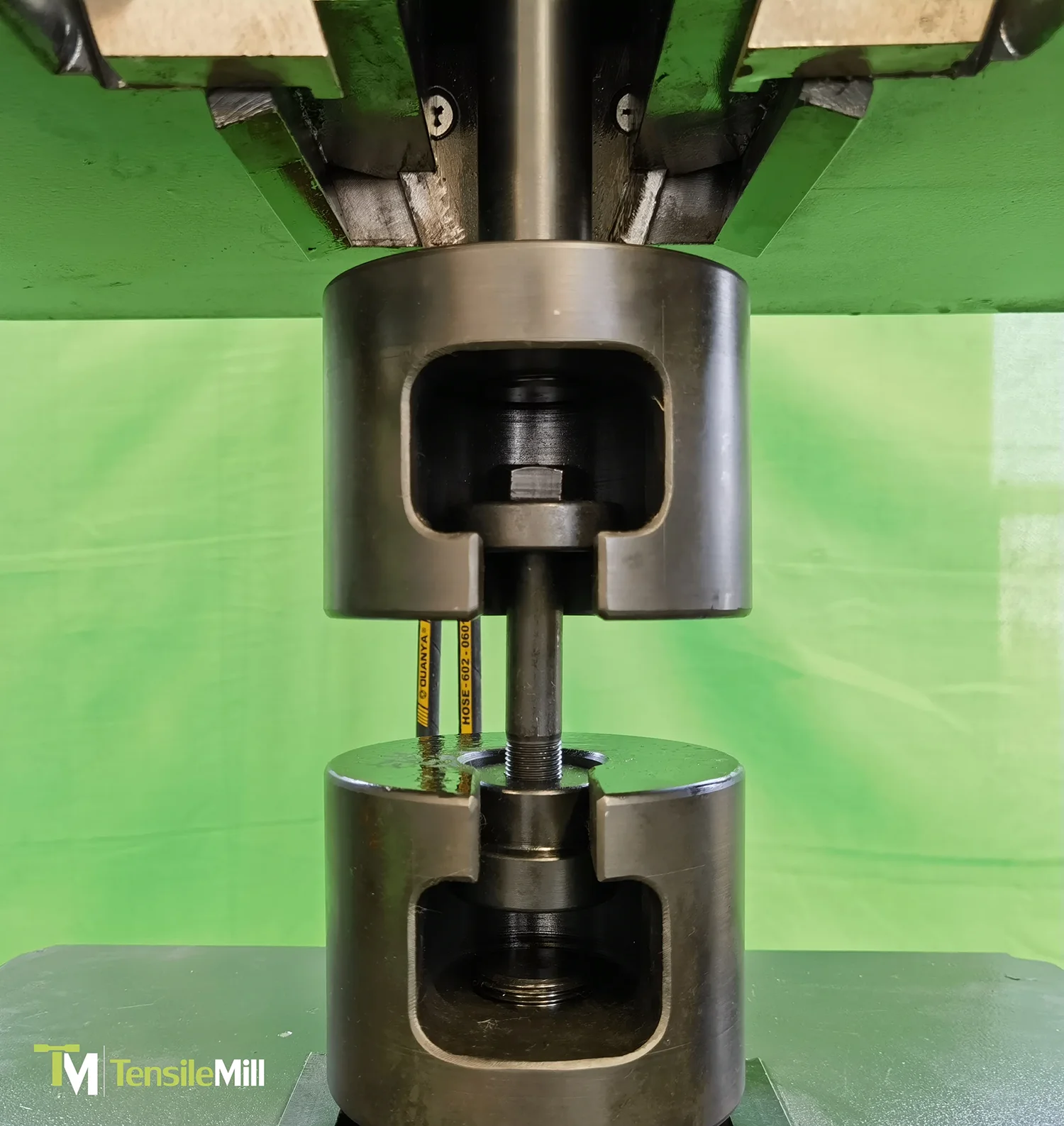 Servo Hydraulic Universal Testing Machine 2000kN Standard Configuration
Name
Description
Qty.
Main machine
Load frame
Dual space, class 0.5
1 set
Load cell
Built in the load frame
1 set
Displacement encoder
1 set
Motor and speed reducer
1 set
Power pack
Servo valve
Italian ATOS brand
1 set
Oil pump
Japanese NACHI brand
1 set
Oil pump motor
1 set
Solenoid valves, Filter
1 set
Cooling fan
1 set
High pressure oil hoses
1 set
Grips and fixtures
Bolt and Nut Tensile Holder
according to the customer's bolt and nut's grade and diameter
1 set
Compression platen
210x210mm
1 set
Controller
AD-18000
1 set
Software
MaxTest
1 set
Accessories
Operation manual
1 set
Software manual
1 set
Warranty card
1 set
Quality certificate
1 set
Servo Hydraulic System for High Strength Nut and Bolt Testing
Servo hydraulic universal testing systems are a crucial role in the industry. They ensure the quality and reliability of nut and bolt systems. Such systems provide precise and controlled testing conditions, allowing manufacturers to assess the strength, durability, and performance of fasteners with the highest accuracy possible. In its turn, you get meticulous product safety, reduced downtime, and improved overall efficiency.
Servo Hydraulic Universal Testing Machine 2000kN Software Operation
Maxtest testing software is applied to all kinds of material testing machines, such as electromechanical UTM, hydraulic servo UTM, screen display hydraulic UTM, and horizontal tensile testing machine, etc. It only needs change it's configuration files.
It is a powerful testing software supporting four different load cells and eight different extensometers measuring. It supports clip-on extensometer, large travel extensometer, video extensometer, etc.
Control system based on DSP technology, PCI-E control card, total three-closed loop control (load, displacement, strain). It can execute constant loading rate control, constant displacement control, constant strain control and program control.
It real time display load, displacement and extension, multiple curves, like load-time, load-displacement, load-extension, stress- strain, etc. These points, like yield point, Rp, Rm, Elastic Modulus can be marked on the curve.
Test Report: