General
This robust lathe machining center for round tensile sample preparation is the ultimate solution for your manufacturing needs. TensileTurn CNC XL is a step up from our classic lathe machine allowing for high accuracy preparation of round, square and irregular stock of tough materials. The machine is capable of sustaining record breaking turn times for some of the toughest metals, alloys and composite materials.
Just like our classic model, the XL comes standard with a large touch screen interface containing our famous Tensile Software. The TensileSoft™ is equipped with the library of common standards such as (ASTM, ISO, DIN and more) allowing you to prepare your round tensile test sample to spec every time. The user-friendly software allows the XL to be operated by virtually any level of engineering experience.
The XL also comes standard with our Carbon software which allows the more experienced operators to program the machine for advanced applications including cutting, sanding, knurling, drilling, facing or turning. Our team of professional CNC engineers will educate your operators on the proper use of the machine for both tensile sample preparation and other CNC machining requirements during the recommended training and installation period.
Just like TensileTurn CNC classic, the XL can prepare standard round tensile specimens, sub-size specimens, threaded tensile specimens, button-head tensile bars, fatigue specimens and other round testing specimens. The operator is only required to simply load the machine with either round, square or irregular stock.
This round tensile specimen preparation machine is the perfect solution for medium to large size laboratories. It is perfectly capable of sustaining medium to high volume of daily specimens, while maintaining consistent preparation accuracy. The combination of user-friendliness, lightning-fast sample preparation speeds, and accuracy of sample preparation to spec every time, makes this gentle giant a leader in the marketplace. The time and cost savings associated with the proper operation of the machine literally saves tens of thousands of dollars annually for an average size facility. The savings can be reflected in the significantly reduced operator involvement and the elimination of outsourcing tensile sample preparation needs to external laboratories. Your facility is now capable of creating exceptional quality round tensile samples to spec in the comfort of your shop. The produced tensile samples can be immediately used for tensile testing procedures.
Controller
The easy-to-use 21" controller comes standard with our machine including the Mach4 software with advanced CNC capabilities. The systems include 64 Gb of storage, 4 Gb of RAM, WiFi, Ethernet, USB ports, macro B programming, 254 tool offsets, 126 work offsets, helical interpolation, drilling canned cycles, scaling and mirroring, advanced trajectory planning, cutting edge dual mode cutter compensation, and more. Along with the tensile milling software interface, Carbon also allows the operator to access the MACH4 Industrial CNC Software used for professional CNC Control functions. Our Carbon software is constantly having new features developed, and every TensileMill CNC system includes updates at no additional cost.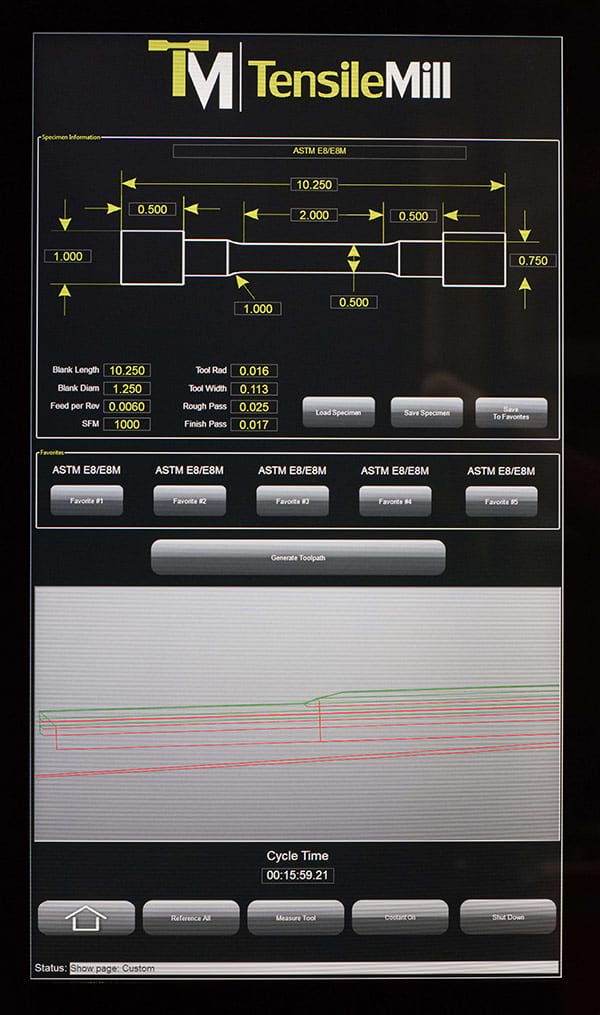 Technical Specifications
TensileTurn CNC XL

Capacity
Max Swing Diameter

450mm

Standard Turning Diameter

300mm

Max Turning Length

550mm

Travel
X Axis

180mm

Z Axis

600mm

Spindle
Max RPM

3500 RPM

Spindle nose

A2-6

Spindle bore

65mm

Turret

Servo Index

Square Shank Height

25mm

Boring Bar Diameter

40

Speed
Feed Rate

X:20 / Z: 24 m/min

Tailstock
Taper

MT4

Quill Travel

80mm

Quill Diameter

75mm

Body Travel

440mm

Motor
Spindle

11 / 13Kw

Axis Motor

3 Kw

Hydraulic Motor

1.5 Kw

Coolant Motor

.55 Kw

Power

20 KVA

Coolant

140 L

Dimensions
Height

2200mm

Floor Space

2600 x 1600mm

Weight

4000 kg