There are several reasons to do tensile tests. Regardless, these tests usually start with tensile sample preparation where you need Tensile test sample preparation equipment. The results are used in engineering applications to help machinists choose the right materials for superior end-products.
When it comes to material specification, the tensile properties of materials are considered in the final selection. Before developing a new material or process, the tensile properties are measured to understand how they will help create high-quality products.
Tensile properties are also helpful in predicting the behavior of materials under different uniaxial tensions and loading forms. Read on to get to know about the TensileMill CNC MINI - Super for non-trained operators.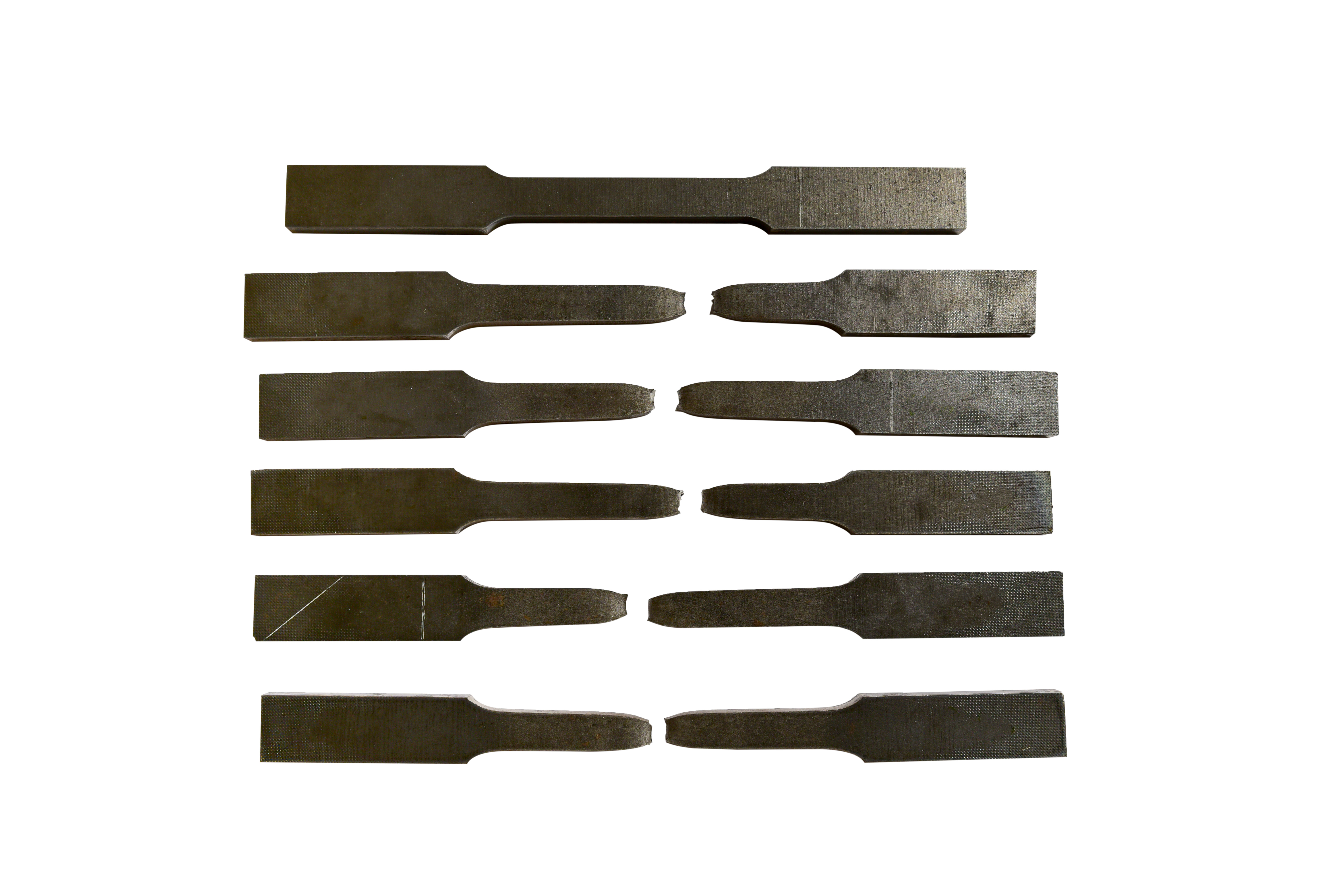 How to Prepare Tensile Samples
Material testing is a standard procedure in checking the compatibility of the material with a specific purpose. The test samples represent the body of the material, therefore they are often derived from similar material sources that have gone through the same procedures.
A tensile sample preparation equipment is used to accurately extract the samples. This equipment is a primary tool when doing tensile tests for various engineering applications. The current global leader for the easiest tensile sample preparation equipment that you can trust is TensileMill CNC Inc.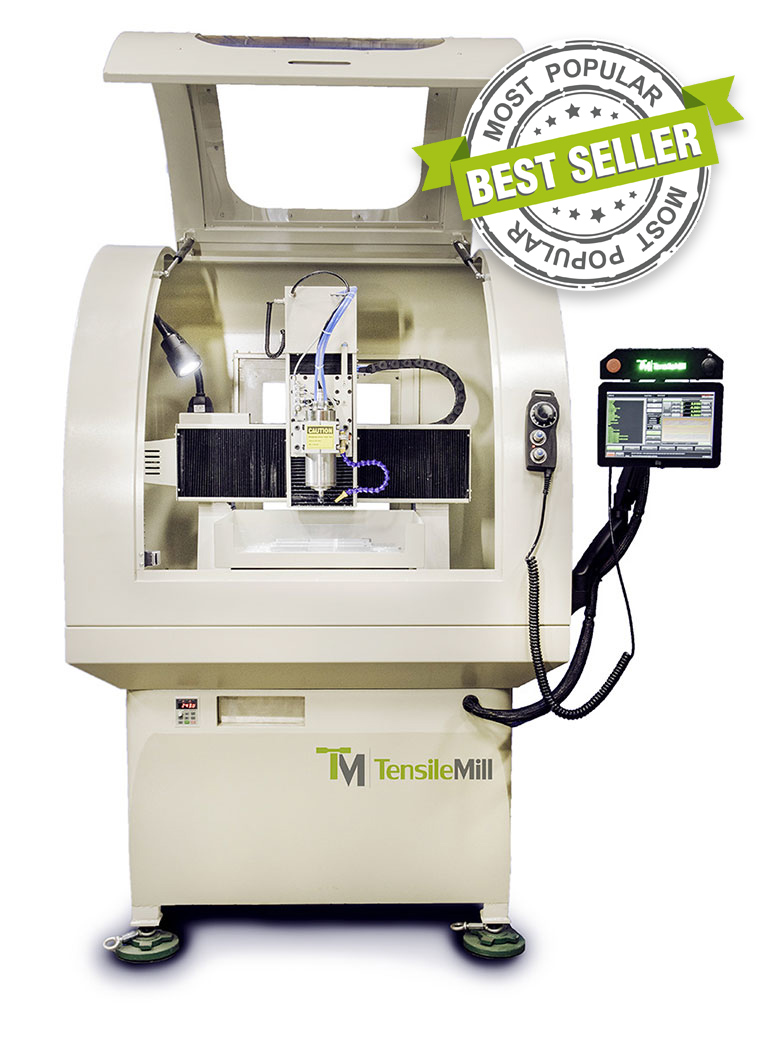 What Is the TensileMill CNC MINI - Tensile Specimen Preparation Machine?
The TensileMill CNC MINI is a tensile sample preparation machine for compact industrial flat tensile specimen preparation needs. As the name suggests, it is a smaller version of a typical CNC machine that is designed for non-trained CNC mechanists.
Although the machine is small in size, it offers the same great features offered by other manufacturer's similar machines. In terms of application, the TensileMill CNC MINI is an industrial grade system designed for medium to high volumes of tensile sample preparation.
With a heavy-duty cast iron frame, this machine has axes that move smoothly on the linear rails. It provides superior machining capability because the machine utilizes a high-powered servo with 24,000rpm ER Collet rotating shaft. This equipment is also built to provide the ultimate flexibility required in tensile sample preparation.
The TensileMill CNC MINI also offers comprehensive CNC machining features. This allows to upgrade the MINI to perform the full scope of CNC machining capabilities. For example, you can prepare high volumes of quality tensile specimens as well as impact specimens all in one machine. It comes with a high-definition, 10 inches LCD screen which is ran by the Tensile Software ™.
The user-friendly tensile milling user interface is what separates our equipment from our competitors. It's easy to enter your tensile specimen on the machine through the interface. The available sample sizes depend on industry-standard parameters specified in DIN, JIS, ASTM, and ISO.
After entering the required measurements, the milling preparation process only takes several seconds. The entered specimen sizes are then saved on the Tensile Software interface for future reference. The machine features an inbuilt diverse system of pre-programmed tensile specimens.
The diverse repository allows the equipment to establish the program promptly without entering a measurement. You can easily upgrade from the Tensile Software to the Carbon Software using the new MINI version. The interface makes the equipment work both as a CNC machine and tensile specimen preparation equipment.
The intuitive and powerful CNC control feature allows unlimited specimen preparation and milling potential. The base unit has an easy-to-use touchscreen controller for more flexibility. If you need the machine to be more flexible, upgrading it to full Carbon Software is a good solution.
The upgraded version offers the following features:
21 inches LCD touchscreen
advanced trajectory planning
up-to-date dual-mode cutter compensation
drilling canned cycle
mirroring and scaling
126 work offsets
helical interpolation
macro B programming
254 tool offsets
Ethernet for connected networks
USB port for expansion option
4GB of RAM
Wi-Fi network connection
Up to 64GB storage
All these excellent features of the upgraded version make it worth your money to buy the Full Carbon Software. However, it is continuously being developed to provide more features and much improved capabilities to users.
In addition to the tensile milling program, the machine can also integrate CNC control systems such as the MACH4 Industrial CNC Software. When it comes to the design, TensileMill considered the needs of the users by adding the 2.2 kW ER Spindle which allows cutting tougher and thicker materials without any difficulty.
The Triple Clamping Fixture is another great feature to take advantage of from MINI - Super. It allows the machinist to stack up to 3 sets of specimens in one milling. More importantly, the new CNC MINI is designed to provide machine operators with maximum safety.
Since it is ideally made for medium to high volumes of sample preparations, it has a working area of 15.75 inches by 15.75 inches by 7.87 inches. The rotating motor is water-cooled and has a rating of 1.5 kW which makes the machine powerful enough to accommodate CNC machining and sample preparation materials.
The precision ballscrews secure the closed-loop motor for accuracy during the sample preparation and milling process. The machine has dimensions of 47 inches by 47 inches area and 5 inches height. This is to make sure that the CNC MINI can provide efficient and accurate results.
Sometimes, there's a limited work area and low specimen preparation volume. In this case, the TensileMill CNC MINI is the best solution for medium and large volume sample preparation.
Cost-Effective for Laboratory Use
Instead of employing machine operators to do the job, you can utilize the new TensileMill CNC MINI - machine to perform accurate tensile tests. This advanced technology can increase your profits and establish your company as a reputable name in the industry.
It's impressive how these modern machines can accomplish engineering work in a few seconds. In exchange, your team of skilled operators and engineers can focus more on the materials tested for tensile properties. This means less time is spent on the testing process than when you use conventional tensile sample testing machines.
If you're having issues with your current tensile specimen preparation equipment, TensileMill CNC MINI is a good investment. It features superior precision and speed with advanced CNC Software that even non-trained operators can easily learn how to use.
Users only need to enter the measurements for the CNC Software to start testing the samples. This new specimen testing machine truly makes the entire process much easier and more precise than the previous versions and other similar CNC sample preparation machines.
When you prepare samples including advanced specimens for tensile tests, you will notice the ability of the MINI to upgrade and shift to the Servo Motor. It ensures that your measurements are correct since precision is crucial in this type of business.

You can monitor the samples through the 10-inches LCD screen while they are in the process of preparation and milling. This is how efficient and accurate the TensileMill CNC MINI sample preparation equipment is in terms of laboratory use.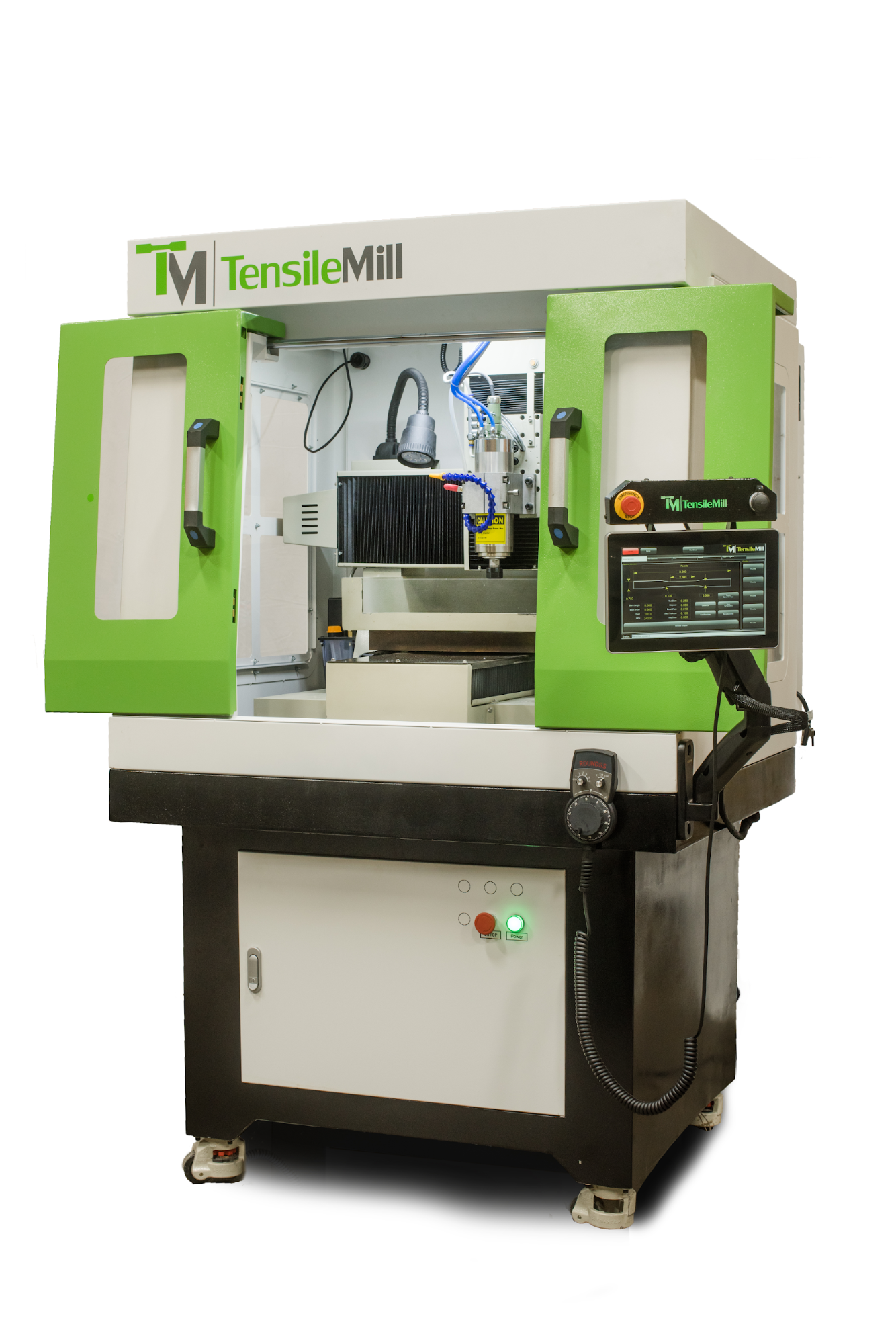 Composite and Plastic Material Testing Sample Preparation
Plastic strength is tested through tensile sample preparation. Composites and plastic materials are widely used around the world. Considerably strong and lightweight, these materials are replacing wood, metal, and other traditional materials with their many uses and constant improvements.
Since plastics are polymers with certain substances combined to improve performance while reducing production costs, many manufacturers are considering this material in their projects. This material can be pressed, extruded into glass fiber, film, fiber sheet, fiber reinforced, tubes, boxes, and bottles.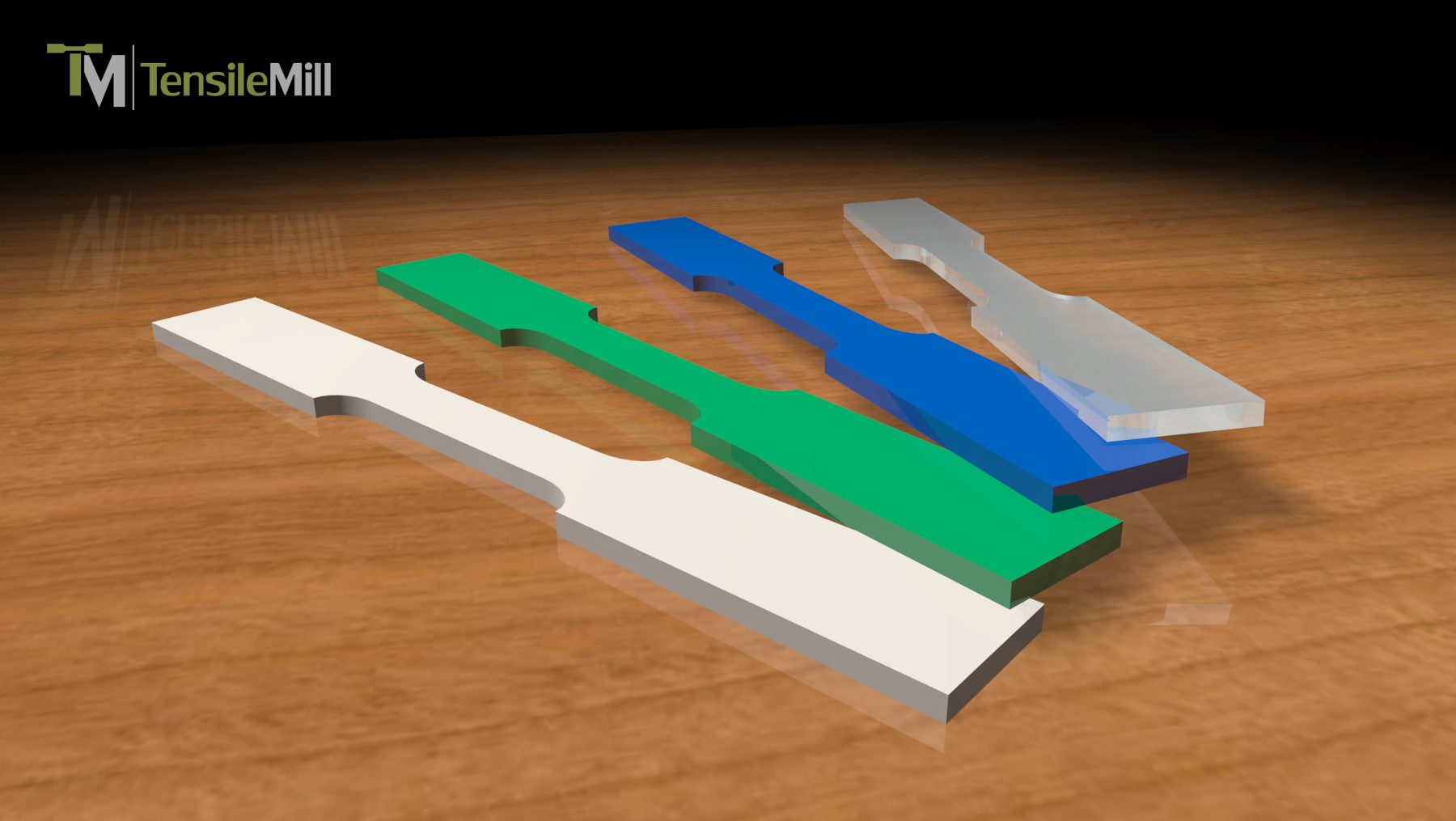 Thermosetting and thermohardening plastic can make the material properties brittle, resistant to a higher temperature, or completely solid. Some samples of thermosets are phenolic resins, polyurethane, epoxy resins, and polyester resins.
The quality and strength of composite and plastic materials are measured by tensile tests. The testing process measures the load amount needed to break the plastic test samples as well as the stretch and elongation constituted with the breaking load.
The test results are then used to design components that can resist forces or loads applied to the plastic or composites. In addition, tensile testing is also helpful in checking plastic material quality. This is essential for plastic manufacturing such as compression molding, thermoforming, injection molding, and extrusion blow molding.
To prepare the samples, tensile test sample preparation equipment is used. The machine will cut out dog bone-shaped or tensile coupons with outlined dimensions that follow industry standards like ASTM, EN, DIN, or ISO.
The TensileMill CNC MINI stands out when it comes to testing tensile specimens, whether it's plastic or composite materials. This equipment is effective and easy to use in terms of preparing composite and plastic specimens for any milling volumes that are needed for tensile strength tests.
Importance of Efficiency in Tensile Tests
Manufacturing facilities continue to improve efficiency and accuracy for best results. The aim is to develop a simple process with fewer operator commitments to the preparation and milling procedures. This will allow the machinists to focus on other important tasks, while the machine is doing its job.
You can prepare your tensile specimens in sheets or strips. The strip preparation process involves stacks or individual strips positioned in the clamping fixtures to prepare for milling. Then the machine will cut the samples around the fixtures so that they perfectly fit the required measurement or industry standard.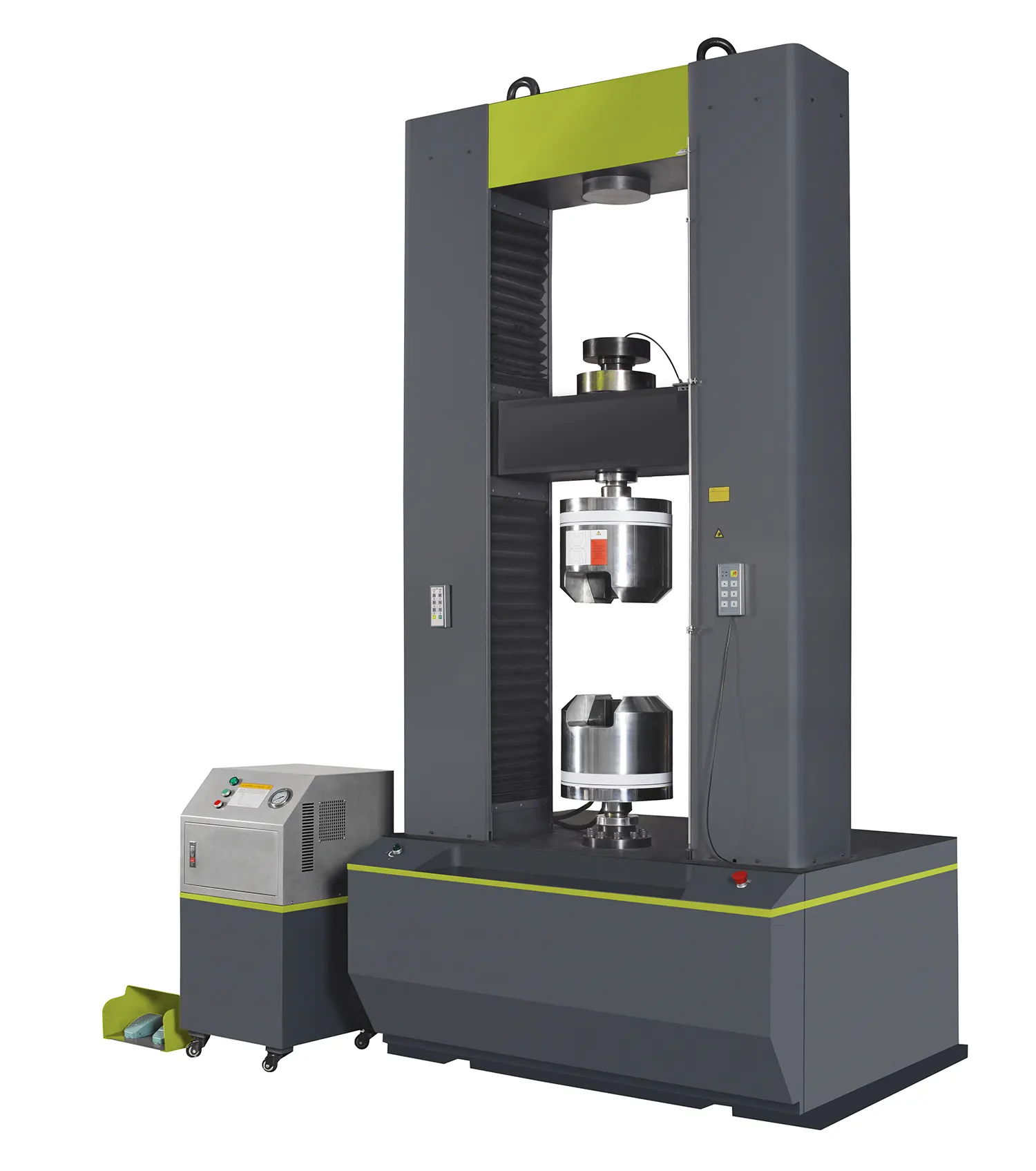 On the other hand, sheet preparation is a method wherein various sizes of sheets are secured and prepared on top of the sheets for milling. This process is more efficient and less time-consuming since the strip-cutting procedure is eliminated.
The TensileMill CNC MINI flat tensile sample preparation machine has been improved to become a better version of its previous models. Despite its small size, it has all the essential features needed to accurately and efficiently prepare samples of different materials for milling.
With the recent updates to the software, the CNC MINI is now better than its classic model in terms of tensile test sample preparation capabilities. The system upgrades also make the machine more efficient when it comes to a smaller footprint, better repeatability and precision, higher power, bigger table size, and a more affordable cost.
Before, it was mighty challenging to prepare high-quality tensile samples with ease, speed, high accuracy and repeatability. Then came the TensileMill CNC MINI. The combinations 10-inch LCD screen, custom clamping fixtures and the leading Tensile Sample Preparation Software, TensileSoft ™ makes all the difference.
When you upgrade to the Carbon Software, this machine becomes a hybrid unit with more features to benefit from. You can easily pull out information from the software interface regarding sizes or measurements used in previous samples.
Using the controller, upgrading the software will instantly provide you with new features for much more improved efficiency and accuracy. The small size doesn't mean less performance because it's high-speed and offers excellent machining capabilities.
Technical Specifications
| | |
| --- | --- |
| Dimensions | 44.5×42×70 inches or 1130×1066×1778 millimeters |
| Working area | 400×400×200 millimeters or 15.75×15.75×7.87 inches |
| Weight | 1500 pounds or 680 kilograms |
| T-Slot size | 12 millimeters or 0.472 inch |
| Unit Dimensions | 1829×1092×1321 millimeters or 72×43×52 inches |
| Spindle Speed | 24,000 RPM |
| Spindle Motor Power | 2.2 KW or 3 HP water-cooling spindle |
| Taper | ER 20 Collet or ISO20 Optional |
| Servo Power | 0.54 HP or 400 W |
| Servo Torque | 566 ounces-inches |
| Max Feedrate | 500 IPM |
| Input Voltage | 220 voltages |
| Total Power | 3.3 Kilowatts |
| Controlling Code | TensileMill Interface on 10 inches Touchscreen Control |
| Full Carbon CNC | Upgrade available |
| Loudest Volume at Point of Entry | 70-90 Decibels |
| Position Repeatability | 0.01 millimeters or 0.0003 inch |
| Ma Engraving Speed | 10,000 millimeters per minute |
| Motor Drive | Servo |
| Tool Shank | Precision Ballscrew |
| Frame | up to 12 millimeters or 0.47 inches |
| Connection Reqs. | Pneumatic, optional |
| TurnKey Package | Standard with Main Instrument |
| Custom Tensile | Applicable for ISO, EN, JIS, DIN, and ASTM standards |
| Axis Servo Motor | Upgrade available |
TensileMill CNC MINI continues to upgrade its door design to increase user-friendliness and safety features. The average monthly specimen capacity is over 10,000 samples in 34 industries with 39,879 different products and materials tested.
Warranty and Maintenance Service
TensileMill CNC sample preparation machines are all capable of strip and sheet preparation methods. Moreover, all CNC around and flat tensile sample preparation equipment are available with a 12-month limited warranty. We understand that your business depends on the accuracy and efficiency of these machines.
For the initial year after purchasing our TensileMill CNC machine, you are completely covered from any damages that can happen apart from wear and tear. However, you can extend the warranty if you want to cover your equipment from potential problems for a longer period.
We also offer preventative maintenance services to give you more options to help preserve or prolong the lifespan of your CNC MINI. The best thing about the warranty is that it's so simple to get your claim and make your machine efficiently working again.
All you need to do is make a phone call or send us an email stating your situation. Our customer support staff will address your concern and process everything needed to ensure your machine is back to its operating condition. Don't forget to provide the serial number of your CNC MINI tensile specimen preparation machine for faster transaction.
After describing your problem via email or phone call, our expert team will guide you in determining the best solution to get the machine back underway. It's important to consult professionals even if you think you can solve the problem yourself to prevent further damage to the machine and void your warranty.
If you properly maintained your machine and did not abuse it, you can easily get a warranty claim from us. Just provide all the necessary details needed to process your claim. The information includes the problems you experienced with your machine and we will give you the best course of action to resolve them.
Quick Tips in Tensile Sample Preparation
If you want to install the CNC MINI machine for flat tensile sample preparation, the space requirement needed is 83 by 79 inches. The unit's physical size is 48 inches in width, 48 inches in depth, and 75 inches in height.
It's also important to consider that the controller moves to the left side. Therefore, it needs additional space for adequate maneuverability. Review the safety requirements of your facilities and allocate a safe distance or space from the back wall.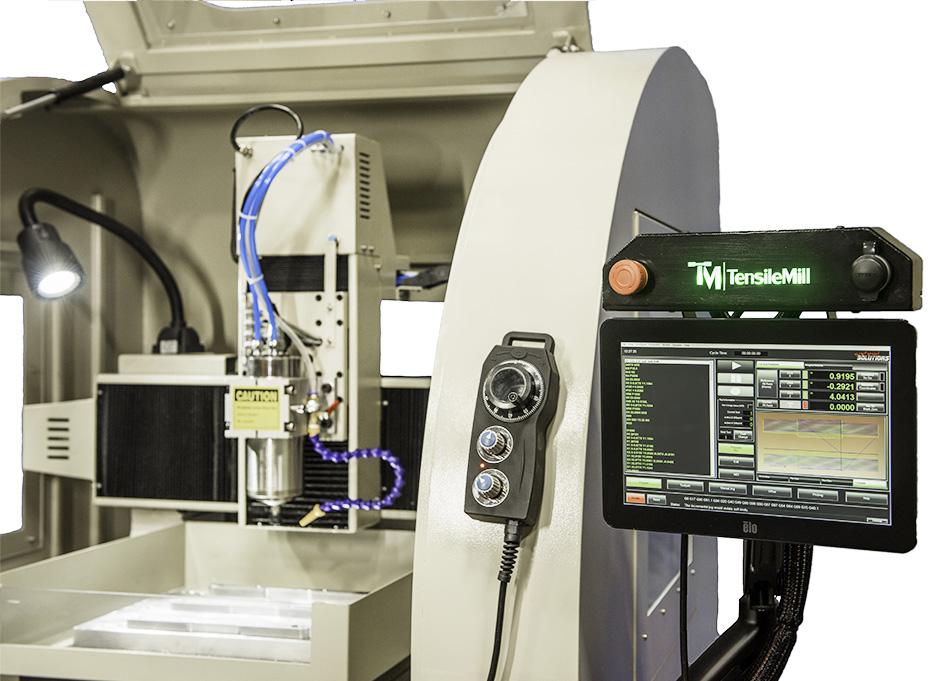 To figure out the maximum feed rate and speed for tensile samples of specific materials, it's important to utilize the appropriate endmills that are compatible with the materials to be tested. Sometimes, you will need to perform trial and error to find out the best feed rates and speed.
However, the TensileMill CNC MINI makes this process much easier and less time-consuming. All you have to do is spend your samples to us and we will give you a tensile dog bone-shaped preparation service for free.
Our engineers and machinists will prepare your samples and determine the right feed rate and speed on the second or third cycle run. Once the samples are ready, our engineers will provide some expert recommendations to help you achieve accurate results.
The upgrades available for TensileMill CNC MINI include custom fixtures, shank endmills, and ER collet for the Turnkey Package. The Full Carbon Software Package allows users to operate the MINI as an improved machine for more advanced applications.
When it comes to the receptacle compatible with the MINI tensile specimen preparation equipment, you can use a 3-prong 20A receptacle. To install the receptacle, just plug it into the machine. Check your manual if you're not sure how to plug the receptacle.
For the safety feature, the CNC MINI is automatically locked throughout the tensile specimen preparation cycle. If you open the door, the system generates an E-stop to ensure the operator's safety. New TensilMill CNC models also come with latch designs to keep operators from opening the doors while the samples are being processed.
If your laboratory has low quantities of tensile specimens preparation needs per day, the MINI machine is a great option. This robust unit can handle different types of composite and metal materials. Despite its advanced design, it remains affordable for laboratories that are on a budget.
Moreover, the machine is equipped with a Tensile Software interface which allows operators to easily and accurately perform tensile tests with real-time results. For advanced CNC machining requirements, you can simply upgrade to the full MACH4 Carbon Package to meet your needs.
If you upgrade to ISO20 Spindle, the machine can manage tougher material application for tensile specimen preparation. In addition, the upgraded rotating shaft offers a 2.2KW option to prolong the lifespan of your CNC MINI when milling tougher samples.
To expedite tensile specimen preparation, you can stack your sample materials. The clamping device on the TensileMill CNC MINI will help you with stacking specimens for faster tensile specimen preparation for any materials. It allows stacking specimens with an inch thickness.
The number of tensile samples you can prepare at one time depends on the type of material, especially their thickness and hardness. You can directly speak to one of our product representatives to give you an exact answer with regards to this question.
In terms of voltage tolerance, the CNC MINI machine operates on 200-240 voltage. You should not plug the equipment into 110 voltage input as it will damage the system. Any voltages below that cut-off will not power up the machine.
The TensileMill CNC MINI systems are typically in higher demands closer to the 3rd and 4th quarters of the calendar year. If you wish to invest in this product, make sure to place your order at an earlier date so you can surely receive the package when you need it. High volumes of the order are unfortunately slowing down our production times, therefore securing your order today is important.
Bottom Line
The key takeaway here is that tensile sample preparation has never been this easy with the new TensileMill CNC MINI machine. If you're looking for the right product, contact us today so we can provide you with a free quote before you order.