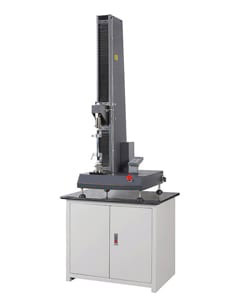 One of the most significant and widely used types of mechanical testing of a material is the tensile or tension test. With the use of a tensile tester machine, a pulling force or tension is applied to a material until it fails or breaks and its response to the stress is measured. Through this test, the strength of the material can be determined, and the amount of force needed to elongate it can be measured.
Types of Tensile Tests
There are several types of tensile test, which include the following:
1. Adhesion or Bond Strength Test
This type of tensile stress test measures the strength of the bond of a coating to a surface or item. This test is commonly associated with adhesives, laminates, tapes, sealants, electronics, and general packaging seal strength.
2. Crimp Pull-off Test
Also known as crimp pull testing, this test uses a tensile testing equipment to measure how much tensile force is needed to remove a crimped ferrule, connector, or terminal from a wire. This is usually done in the production line, as part of lifespan assessment, or together with electrical integrity for electrical wiring.
3. Peel Test
A peel or peeling test is conducted to determine the strength of adhesion or stickiness between two materials bonded with an adhesive. This measures the resistance to detachment from one another after the application of adhesive to the tensile test samples. The assessed value determines whether the bond is sufficient or too much for the intended application or whether another adhesive or bonding method should be used.
4. Tear Resistance Test
This test uses a tensile test apparatus to apply a force to an item that already has an initial tear until it completely fails or breaks. This test measures the tear resistance or the ability of tensile testing samples to resist the progress of a partial tear. This is often used in flexible materials, which are more vulnerable to accidental tears and holes. Such materials include fabrics, textiles, polymers, rubbers, elastomers, packaging, and paper products.
Applications of Tensile Strength Test in Different Industries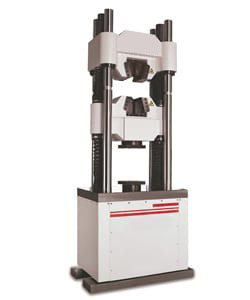 1. Aerospace and Aviation Industry
Choosing lightweight materials that can help reduce fuel consumption but still satisfy the specific application's strength requirements
Verification of the functionality of composite materials – combination of different materials that have superior specific strength compared to a single material
To test for tensile strength of adhesive bonds, carpets, cables, gaskets, hoses, seat belts, wiring looms, and harnesses
2. Automotive Industry
Determination of the breaking strength of a seat belt, which is crucial for automotive safety, as well as the car seat's foam rubber
Assessing the quality of exterior fittings, such as door and window seals, mirrors, mud flaps, and bumper moldings and trims
Assessing the quality of interior fittings, such as airbags, dashboards, handles, mirrors, and handbrake levers
Using tensile test to develop and perform quality control on lightweight and high-strength materials, which are essential in safety and fuel economy
3. Metals and Construction Industry
Use of Tensile Preparation ASTM E8 – the most popular method of testing metals – by metal fabricators to assess the tensile strength of steel preparation, produce materials with the right ductility and strength, and pass the compliance standards to ensure high-quality and safe materials
To test tensile strength of safety support nettings, timbers, and geotextiles
Testing bond strength of adhesives, sealants, mastics, and between layers of brick and foam
4. Electrical and Electronics Industry
Tensile straining of conductive film and substrate used in flexible electronics to determine their mechanical and electrical behavior
Characterizing pull-off properties of crimped, soldered, or welded electrical contacts and components
Measuring tensile strength of printed circuit board (PCB) materials
Testing for tensile strength of electrical wires to meet specific requirements
Measuring withdrawal force of connectors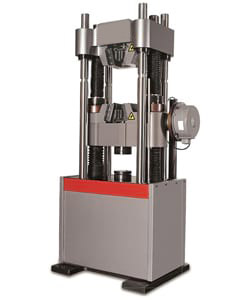 5. Medical Equipment and Materials Industry
Assessing the compression and tensile strength of lenses to guarantee it can withstand everyday use
Tensile strength testing surgical tubes to identify its mechanical properties and possible material and junction defects that could harm the patient
Testing catheters to assess intra-tubular flexion and accurate transmission of torsion necessary to change direction through guide wires
Determine whether bandages, dressings, and textile materials are elastic enough
Identifying the elongation of surgical gloves, silicone rubbers, and other soft stretchable medical materials
Testing the strength of needles and injectors
Testing the joint strength of respiratory masks and IV connector fittings
6. Packaging and Paper Industry
Measuring the elongation and strength of plastics, board, or paper
Measuring the maximum load that a material can withstand before it tears or ruptures
Assessing how easy or difficult it is to open a packaging
Measuring the force required to tear a seal, adhesive bond, or label and open snap-caps and pop-caps
Characterizing the folding properties of cartons and boxes
Knowing the tensile properties of paper that has to be fed to automated machines, and run through huge rolls over long distances at high speeds to print different paper products
7. Plastics and Rubber Industry
Testing the strength and rigidity of carbon fiber reinforced plastics or CFRP
Assessing whether rigid and flexible plastic and rubber products have enough strength to withstand external physical stress
Identification of the elongation and necking or yield strength of plastic and rubber products
Evaluation of the strength of interlocking rubber or plastic components
Testing the adhesion of plastic or rubber labels
Measuring the quality of products made from plastic or rubber
8. Sport and Fitness Industry
Tensile testing not only during production of strings but also checking the tensile strength, knot strength, elongation of strings at certain loads to ensure quality of tennis, squash, and badminton rackets
Testing tensile strength of thermoplastic elastomers and vulcanized rubbers used in soles of athletic footwear and sports equipment
Testing tear and tensile strength of leather and fabrics used in performance footwear, apparel, and equipment to guarantee that failures are minimized
9. Textiles Industry
Assessing whether a fabric is strong enough to be wearable and resist damage from regular use
Testing the breakage strength, tear resistance, and elongation of natural and synthetic fabrics, thread, yarns, cords, and ropes
Testing the strength of vulnerable seams
Characterizing pull-off properties of buttons, zip fasteners, stitched decorations, poppers, hook-and-loop fasteners, and press studs
Significance and Benefits of Tensile Testing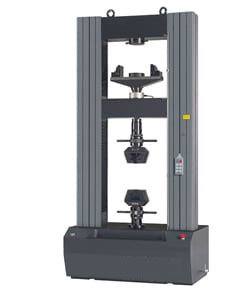 The performance and strength data measured by tensile testers are important in the selection of design and materials, purchase and sale of products, development of new products, quality control, and safety of equipment.
During the research stage of product development, tensile testing is crucial in choosing the most appropriate materials. A tensile test machine can verify whether candidate materials pass the required strength and elongation requirements for a certain product.
In the metals industry, tensile testing provides an opportunity to discover new alloys, their qualities, and the possible uses they might have. This can lead to improved materials, which are beneficial to both manufacturers and end users.
The use of a tensile strength tester in the quality control of products is also crucial. It provides manufacturers a way to identify whether there are problems in their manufacturing line. It also ensures that what they deliver to customers is safe, of high quality, and adheres with industry and international standards.
The cost of not complying with industry standards may not only be monetary. At worst, it could involve human cost. Performing regular tensile testing usually costs far less than the consequences brought about by using inappropriate materials or sale of substandard products. Therefore, carrying out reliable and accurate tensile tests should be a priority.
Contact us today to be connected with a reliable tensile testing equipment manufacturer to meet your tensile testing needs.